If you have a small bathroom, join the millions of people who do too! Thankfully, this also means there are tons of ideas out there for creative use of a small bathroom space and today we've pulled together some of our favorite DIY solutions from around the web!
1) Who would have thought that something simple like a rope could be a bathroom decoration? You can make towel holders and many other things out of rope. You just need fiber rope and you need to know how to tie a knot. With just a bit of creativity, you could solve some of your bathroom storage issues and give the room a great new look at the same time.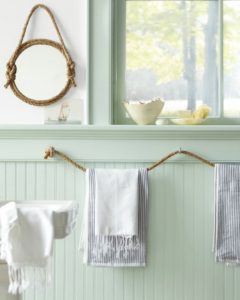 2) If you need storage in the bathroom (like most people) and you want it to be creative but unique at the same time, try hitting flea markets and yard sales. Wooden crates and mason jars make awesome storage solutions. You can stack the crates or mount them to the wall. Mason jars are great for keeping cotton swabs, cotton balls and a number of other bathroom supplies neatly organized.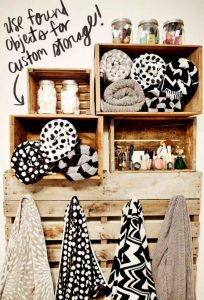 3) Plant holders make fantastic hair styling supply holders and can be found everywhere! Instead of hanging plants in them, you just attach them to the wall and put all sorts of hair supplies inside. They look great in the bathroom and help you to save a bit of cabinet space. The best part is that you can pick these up for just a few dollars each and have them for all types of storage.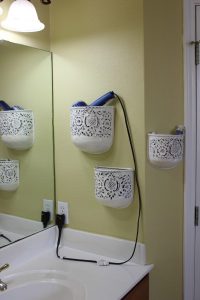 4) Want to be able to easily find clippers, tweezers and bobby pins? Try this; attach a magnetic strip to the inside of your medicine cabinet door. This is a great way to keep track of little things like bobby pins and tweezers. Cut the strip the length of your door, attach it with screws and then add those small metal items that you always have trouble finding when you need them.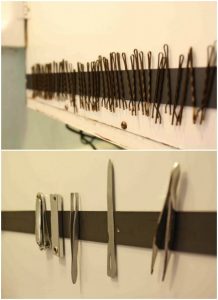 5) "Oh I have enough towel space" said NO ONE EVER! Here's a great tip for towel storage; roll the towels instead of folding them. Believe it or not, this actually does take up less space so if your storage is limited, you will be able to get all of your towels on the shelf and you might have room for extra. You can keep them all in a large basket or stack them in a pyramid on a shelf.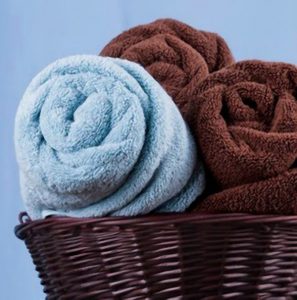 6) You should always make use of empty space and this includes the space on the back of your bathroom door. You can hang towel holders down the length, which will give you room to store several towels and washcloths. Use lower racks for small children so that they can get to them easily.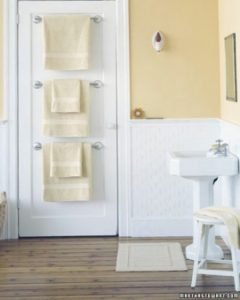 7) Okay, so maybe lighted showers may not help with organization but this one was to cool to skip! These shower heads emit colorful light when you are using them. This is an awesome idea if you have kids; they will love taking a shower when there are colorful lights coming out of the shower head. What a great way to get kids to stay clean!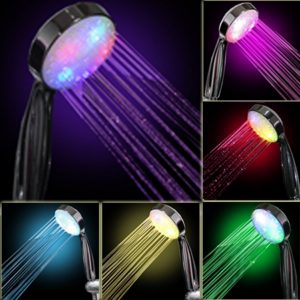 8) Natural wooden drawers will fit beautifully above your toilet and house all your toiletries, lotions, and makeup.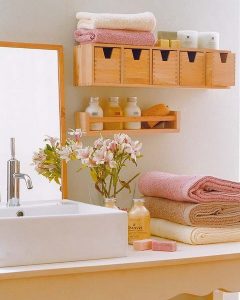 9) It's nice to have things on display if you're using them everyday. We love this DIY idea!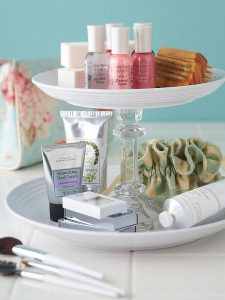 10) If you have just a few inches of space on either side of your sink or even just one side; you can add tall bookshelves for your toiletries.