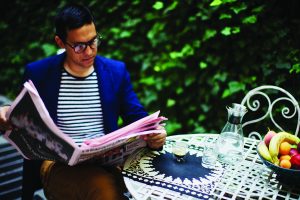 Coffee has become a social ritual — a way to stand out, a comforting daily routine, and even a hobby for some. The way we like our coffee speaks volumes, while the way we serve it to others is even more important. Reach aficionado status and impress guests with these quick tips.
Know the lingo. Bold? Smooth? Doppio? Café breve or a café au lait? Knowing your way around the coffee lover's dictionary is the first step to mastering a delicious cuppa. Different blends, beans and regions, as well as dairy and water ratios, work to create different layers, tones and flavours. The growing demand for unique and customized coffee has resulted in a number of international trends crossing borders, like Australia's version of a latte — the flat white. With so much to know, start with the basics and work up to mastering the ins and outs of an espresso tazza d'oro, otherwise known as a cup of gold.
Opt for the newest technology. Gone are the days of having to leave the house for the best espresso in town. Use machines like the Saeco GranBaristo Avanti to create your favourite caffeinated drink from the comfort of your own home. A fully connected espresso machine, the GranBaristo connects to your tablet via Bluetooth with 18 fully customizable drink options for a full-bodied ristretto or the perfect cappuccino. Integrating technology into your coffee routine makes it easy to prepare your morning java or take guest's coffee orders without leaving the dinner table.
Do your research. Coffee has become a personal trademark and a point of pride for many self-proclaimed aficionados. Before walking-the-walk, it's important to really understand what makes a full, well-rounded cup of coffee. True coffee experts understand the fine details, including acidity, the difference between arabica and robusta beans, and how soil composition and rainfall affect the beans.
www.newscanada.com