Shower curtains have a specific purpose; to keep water off your floor. Unless you have glass shower doors, they are a necessity and because they take up a large area in your bathroom, they become a key design element as well. A gorgeous shower curtain can completely change the look and feel of your bathroom. Here are a few fantastic DIY ideas for making your own stunning shower curtains.
1) This shower curtain is a great painter's drop cloth project! Adding a decorative trim and pretty fabric in black really jazzes it up and gives it an air of sophistication.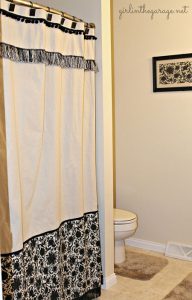 2) Here's a fun, frilly curtain with ruffled embellishments.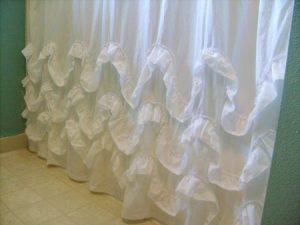 3) Striped shower curtains are very trendy right now and this concept is so easy! All you need to do is sew together heavy home decor fabric and cut to size to create a simple and inexpensive shower curtain.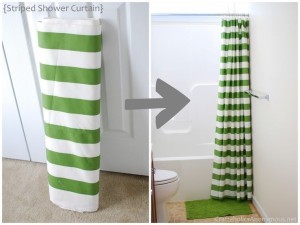 4) Chevron shower curtains can be made easily using painter's tape and fabric paint to make the really cute chevron pattern on a plain shower curtain. You can use the same concept and tools to create any pattern you want on your own shower curtain.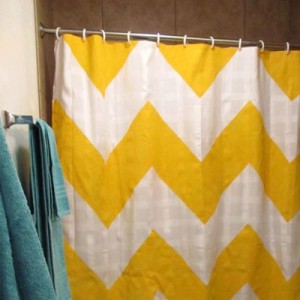 5) Monogrammed shower curtains are a breeze! The result looks high end but it is actually very easy to do. A stencil was created using a computer and freezer paper. The stencil is then used to paint the monogram with fabric paint. This curtain was made using an old muslin sheet with a black accent strip added to the bottom and it looks spectacular.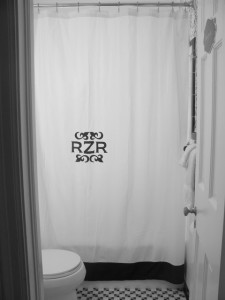 6) This color block shower curtain is so cute and frugal to make. You take fabric of any colors you choose and sew them together in large blocks to make the perfect shower curtain for your bathroom.