Ah, the dreaded closet. After months or even years of just throwing things in, getting organized can seem like a daunting task. Proper storage for your clothes and linens means they'll always last longer and look their best. If you organize your closets and drawers, you'll find you wear more of your clothes more often. This means less money spent on clothes you didn't need or didn't realize you already had! Here are a few creative storage ideas to help you get started!
1) Shelf Dividers: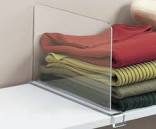 Piles of shirts, folded sheets and other closet items often need some help to keep from falling over into a big pile of mess. Wooden shelf brackets used as dividers do the job nicely.
2) Chalk Dehumidifier: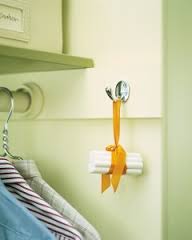 A handful of chalk that's hung in a closet will suck up extra moisture and keep your clothing fresh and dry will taking up much less space than an electric dehumidifier. Hang a hook in the closet, out of the way of clothes or linens. Fasten a rubber band around a dozen pieces of chalk and cover band with ribbon, allowing enough loop to hang chalk.
3) Baking Pan Organizer:
Getting a jar of honey from the back of an awkwardly crowded cabinet can be annoying. For a fast and simple fix, gather the small things you store on the shelf into a spare baking tray, then treat it like a drawer, carefully sliding it in and out for easy access. The pan will also catch drips, speeding cleanup. This also works well for small items like toiletries, accessories, etc.
4) Stay-in-One-Spot Pants: The same felt glides that keep scratches off wood floors keep pants on wood hangers.
5) Drawer Boxes: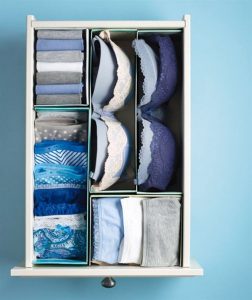 In shallow top dresser drawers, a velvet lining backed with poster board using archival glue, gives delicate items such as scarves and jewelry, plush support.
6) Home Made Potpourri:
Aromatic herbs such as rosemary, cinnamon, lavender, and balsam can keep clothing and shoes smelling good; cedar can help protect wools from those pesky little moths.
7) Bed Linens:
Bed linens organized by type can rapidly become disorganized when you try to retrieve them to put together matching sets. Try this instead: Slip each set into one of its pillowcases, and store the sets by size — twin, full, and so on — with colors, trim, or other defining details clearly visible.
8) Pegboard Closet Wall: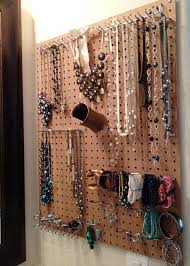 Pegboard helps to keep things off the floor, in sight and within reach.
9) Donations Bag:
Hang a sturdy, extra-large tote bag in a central location or by the back door and let it serve as a collection bin for clothes, housewares, toys and other items that you decide to give away. When the bag is full, simply grab the handles and take the contents to a local charity.