Jewelry can be one of the most frustrating things to keep organized. If you're like most women, you have a selection of necklaces, rings, bracelets, earrings and more. Keeping these items organized will make it easier to find the pieces you want quickly. Here's some creative ways to both organize and display your favorite accessories.
Frame Organizer: This is fairly simple to do, really! Find a wooden picture frame, (any size). Staple or nail in some fishing wire and you have a jewelry organizer that looks amazing. You can paint the frame or add on your extra little touches to it as well.
Wooden Bowls: Now this can't get any easier! All you need to do is find some wooden bowls. You can have them all the same size or be creative and get different sizes. It's really up to you! Group the bowls in a decorative tray and use them to hold small items like earrings, bracelets or hair clips.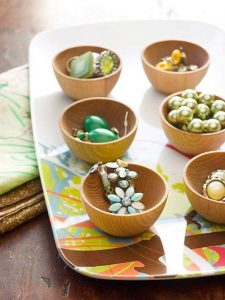 Antique Brass Tiered Stands: This has such a vintage look and it's super cute! Check local flea markets and antique shops to find stands for a steal.
Vanity Table: If space allows, get a vanity table with a mirror. Alternatively, you can hang an oval mirror above a dresser. Drill holes in the frame of the mirror and add small hooks to hang necklaces and bracelets. Be careful not to drill into the mirror or you run the risk of cracking the whole mirror.
Door Knobs: You can find an eclectic bunch of doorknobs for cheap at the thrift store. All you need is to find a sturdy piece of wood and attach it to your wall. Attach the doorknobs to that piece of wood and hang your jewelry from there.
White Ceramic Urn: A white ceramic urn paired with a glowing silver tray becomes an instant drop zone for end of the day removal.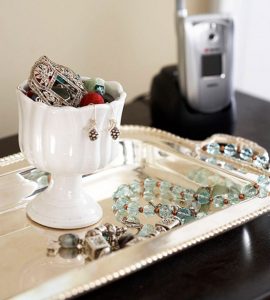 Wooden Tray Organizer: This one is super cute and it would be so handy to have those little boxes to store your miscellaneous extras.
Jewelry Trees: A lot of women prefer jewelry organizers to let one slip the jewelry on easily. It's a lot less stressful than having to put the jewelry in a particular place in a drawer. That's where the tree comes in handy. It also adds a touch of class.