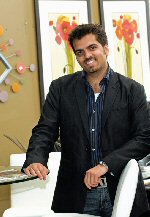 I wonder how many people walk into a room and automatically try to redecorate the room in their minds. For instance just the other day, I was walking through a friend's living room and thought to myself, "Wow, this space would look great by simply rearranging a few pieces of furniture". I have often laughed with friends about spaces I have seen through the years and how I would have loved a few minutes to rearrange the furniture in the room and add a few simple accessories. I have said many times "I wonder if I moved the homeowners' furniture without them noticing little by little every time I visit their home and one day their furniture would be in its rightful place." Of course, with my amazing luck, I would get caught in the act and would have to explain why I am pushing their sofa to the other end of the room while they are getting me a cup of coffee. I would then have two options: confess everything and explain to them the fundamentals of design, or amusingly state that I am trying this new fitness program and that they should give it a try by moving their furniture so that their room becomes esthetically pleasing.
Although furniture is a big part of a room's design, it is not everything. Good design also consists of setting a mood, keeping all your design elements in harmony and selecting a colour palette that compliments the overall look. (Read Colour Swatch on page 30) Your colour palette sets the personality of the room. It should truly speak to your design style such as the Brian Gluckstein space featured in this issue which features a neutral colour palette which is very much Gluckstein's design style. (Read Brian Gluckstein's Designer Wisdom on page 46)
With every style we must consider the room's layout and available space. The 6,500 square ft. home designed by Michelle Ardiel is directly reflected in her modern sleek design style and open concept layout. (Read Home To Stay on page 22) While not all of us have over six thousand square feet of available space, we must make do with the space that we have available to us, adapt and express our personality through the design of our space as an artist does with a blank canvas. If you are unsure where to start, our design quiz on page 49 will guide you in the right direction.
Not all of us have a natural knack for design but we all have the opportunity to learn. Therefore, next time you are moving someone's furniture while they are getting you coffee, consider asking them to step back into the room and offer them a few pointers. If you are the one getting the coffee while a design crazed maniac is rearranging your furniture, please forgive us as we are only trying to help.