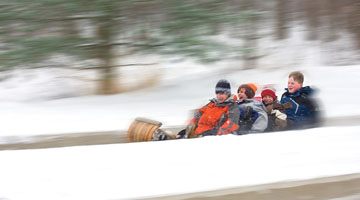 (NC)—Winter is upon us and the little ones are geared up for fun on the ice, in the snow and on the hills. The Alberta College and Association of Chiropractors offers the following tips to help parents and children stay safe this winter:
• Check often to make sure your child is warm and dry. Younger children should take regular breaks and come inside to warm up.
• Never send children out in extreme weather, such as snowstorms.
• Help children choose play areas close to a warm shelter, such as near home or a friend's home.
• Apply sunscreen to exposed skin, even in cloudy conditions.ClothingIf your child's feet and hands are warm, they are likely appropriately attired.
• Dress your child in layers that can be easily put on and taken off.
• A hat is essential as a lot of body heat is lost through the head.
• Ears should be covered at all times to prevent frostbite.
• Mittens are warmer than gloves.
• Select warm, waterproof boots with enough room for an extra pair of socks and to wiggle toes around.
• Remove drawstrings from clothing that could catch on climbing or other play equipment. Use Velcro or snap closures instead.
• After play, remove wet clothing immediately.Winter playActive games will help to keep your child warm. Teach your
child a few important rules to ensure safe winter play.
• Stay away from snowplows and snow blowers. Choose play areas away from roads, fences and water.
• Take extra caution when crossing roads as it may be hard for drivers to see children through snowy or frosty windows.
• Do not play on roadside snow banks. Snowplow drivers and other drivers may not see a child.
• Snowball fights can be dangerous and cause injury, especially if the snow is hard-packed or icy.
• Snow forts and tunnels can collapse and present a suffocation risk.
Chiropractors are experts in back, muscle and joint pain, but they are also trained to counsel families regarding overall healthy lifestyle. More information, including where to find a chiropractor near you, can be found at www.albertachiro.com.
www.newscanada.com