5 Things to Know Before a Summer Road Trip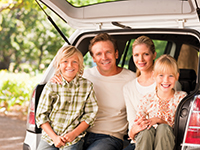 (NC)—Summer getaways are common indulgence in Canada and for the more than four-in-five of us who own, lease or finance a vehicle, exploring the great white north often begins with the push of a pedal.
Whether your plans include cross-country road trips or a weekend exodus to the cottage, here are a few tips from Krown Rust Control to keep your vehicle looking and running its best on the open road:
• Keep it Clean: Starting a road trip with a clean car is a must, but be eco-responsible. Always look for products that are designed to be tough on grease, bugs, mud and carbon deposits, while still being safe for the environment.
• Check Your Wheels: Make sure tires are road-trip ready. For better handling and mileage, swap winter tires for summer ones, or all-season types. Check the pressure of the tires before you take off by consulting the owner's manual or on the side of the tire. Properly inflated tires improve grip on the road and save money at the pump.
• Top up Fluids: No one wants to be stuck on the side of the highway. Having proper levels of windshield washer fluid, engine oil, radiator coolant and brake fluid can make or break a road trip. Check the owner's manual for the recommended fluid levels. Remember overfilling your fluids can do just as much damage as not filling up enough.
• Get Rid of the Salt: As the temperatures rise, so does the rate of corrosion and after a full-season of battling snow and slush, the chemicals used to clear roads can eat away at a car's body. Keep your car looking and running its best by getting a professional rust protection at least once a year.
• Take it to an Expert: Stay safe and avoid unforeseen expenses by following your car's recommended maintenance schedule. See a professional to give you the green light for long-distance travel.
More information is available online at www.krown.com