A new mother's guide to the holidays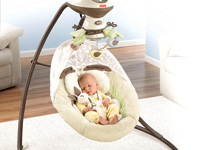 As a new or expectant mom, the holidays can be a time of immense joy – filled with so many new experiences. Why not make memories right away with just the right items to soothe and celebrate the little one?
Start with a jolly jumper like the Discover & Grow Jumperoo, or a soothing swing like My Little Snugabunny Cradle & Swing to help your baby fall asleep. Soothe and engage the little one with calming music, soft fabrics and two- way motion as it swings front-to-back or side-to-side. It's especially cozy when the wind outside is howling.
When the food has been gobbled and the wrapping paper has been torn, mothers know that the best gift of all is a sleepy baby. This is easy if you take bedtime to the sea with the Ocean Wonders Aquarium, a crib attachment that captivates baby with the mesmerizing music.
When your little one becomes a bigger one, it's true that learning changes. The Laugh & Learn Stride to Ride Puppy can help and encourage a tot support themselves. It provides sturdy support as baby learns to walk, while boosting balance, coordination and teaching letters, numbers and colours. More information is available online at www.fisher-price.ca.
www.newscanada.com