Add Joy to Christmas with Old and New Traditions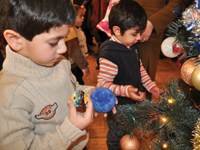 Christmas is a time full of tradition. Some have been around for centuries and others have been started in the past few years.
Many families, for example, prepare for Christmas by bringing greenery into the house to decorate, a custom which began with the ancient Romans. This can include a tree, wreath, beautiful holly, or ivy wrapped around banisters.
Christmas joy and carols go hand-in-hand. Songs were first sung in Europe thousands of years ago and eventually they made their way into popular culture. Now carols are sung all over the world, in many different languages.
Helping others or giving to charity is another worthy holiday tradition—and many organizations offer a variety of ways to give. For example, World Vision Gifts (www.worldvision.ca/gifts) allows families to donate a practical item to a child or community that will provide a long-lasting difference.
The older customs are a source of comfort and happiness for families, but by creating new ones, families can add their own unique spin. Young children might leave candy for the reindeer along with cookies for Santa or a family could make a new tree ornament together each year. A new tradition can bond a family together and will demonstrate what makes them unique.
www.newscanada.com