Breakfast: tips on how to overcome common breakfast barriers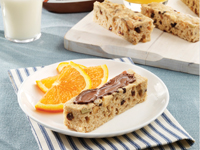 Most parents know that breakfast is important, yet some children are leaving for school hungry. New research from Nutella reveals statistics on the breakfast attitudes and habits of Canadian families and opportunities for how to get more breakfast on Canadian tables:
Fact: More than a quarter of Canadian Moms (26.3%) agree that they are too rushed to prepare breakfast for their children weekday mornings before school.
Solution: Plan ahead – you can do this my making a weekly schedule for what is on the breakfast menu. Pick a designated area of the kitchen to display it – such as a chalkboard – and have your children input on what the menu items will be.
Fact: More than 7 in 10 (73%) moms agree that breakfast recipe ideas and tips could help their families eat breakfast more frequently.
Solution: A great way to get more recipes, hints and tips is to join the online community where parents across Canada can help each other out. The Nutella Breakfast Table is a Facebook page designed for sharing ideas and recipes, in turn giving parents a community to share and learn from one another.
Fact: Two-thirds (66%) of moms agree that ideas for making breakfast more fun could help their family eat breakfast more frequently
Solution: Add fun to breakfast with music. Make a breakfast playlist – include up-beat songs to put you in a positive mood as you head out the door. Eating breakfast while listening to music will set you up for whatever the day has in store.
Fact: Two-thirds (66%) of moms wish there was more time to enjoy breakfast as a family.
Solution: Be a breakfast champion –community-led breakfast initiatives help kids and families enjoy breakfast together. If you or someone you know has a great community breakfast idea, apply for support through The Nutella Breakfast Table Fund. Applications will be accepted until December 31, 2012 at Facebook.com/TheBreakfastTable
www.newscanada.com