Breeze Your Family Through Airport Screening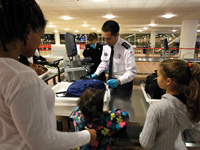 (NC)—A family trip this summer can be the perfect solution to relax while strengthening family bonds, but travelling with babies and children can be hectic. Going through airport screening without a hitch will get your family vacation off to a great start. Below are five tips from the Canadian Air Transport Security Authority (CATSA) to help you and your kids breeze through screening:
1. A hungry baby is a grumpy baby. For parents travelling with kids under two, baby food, formula, medications, milk, water and juice are exempt from the 100 ml (3.4 oz) liquid restriction for carry-on baggage. The amounts must be reasonable for the length of your vacation and these items must be presented to the screening officer. There are no restrictions on solid food snacks.
2. There is a dedicated screening line for families. Take advantage of it and arrive early to give yourself a little more time to clear security.
3. Metal accents on clothing could slow you down. Reduce the likelihood of additional screening by dressing yourself and your kids in clothing and shoes that won't set off the metal detector.
4. Remove infants from their stroller or carrier and hold them while proceeding through the metal detector. The stroller or carrier will have to be x-rayed. Never leave your baby in a carrier on the x-ray belt.
5. Pack toys in your child's carry-on baggage that will keep them entertained on your flight. Batteries for toys, cameras, gaming devices and other personal items are allowed in carry-on baggage, but some restrictions apply.
The website at www.catsa.gc.ca has more information about packing smart. Bon voyage.