Building projects are a fun way to learn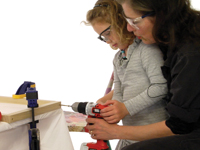 Keeping kids entertained can be quite a task on those chilly, winter 'snow' days home from school. When it's too cold to continue playing outside, try engaging kids in a fun, yet educational project that will also help develop essential life skills.
With fewer skilled trade workers as role models today, many kids have never been exposed to using tools. Building a project together helps adults to bond with children while instilling confidence and new skills such as problem solving, math and coordination.
While parents may be reluctant to permit young children to build or use tools, research indicates that much of the early brain development comes from using our hands. Mag Ruffman, Canada's self-proclaimed 'tool girl', recently produced a series of videos for Lowe's featuring simple, yet fun projects parents can do with their kids at home. Ruffman explains that if kids can get their hands on tools and materials in their first five or six years, it can help their brains develop neural pathways that can improve their intelligence and abilities for the rest of their lives.
"When you think back on your childhood, it's those things you built with your own hands that have the greatest resonance," she continued. "That is the goal of what we call the Lowe's Family Fun Projects.  We're doing everything we can to help kids and parents build lifelong memories in that timeless world of creativity.  The more creative and innovative our kids are, the better this world will become."
The growing trend of online resources and social media sites that feature inspiring projects and crafts, ensure that parents don't have to be DIY experts in order to take part in a fun project that they can take pride in with their children.
Simple project ideas and tips on how to introduce building to children, can be found online at www.lowes.ca/kidsvideos.
www.newscanada.com