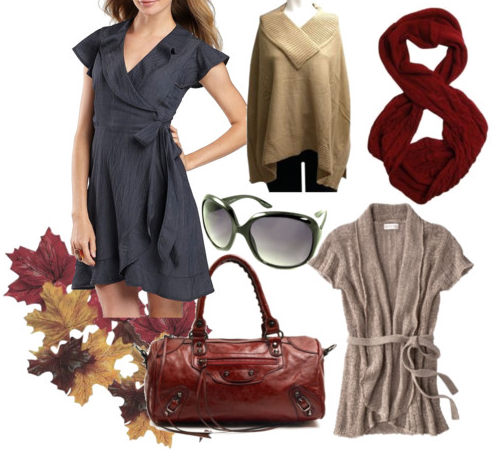 Wrap Dress – Tan Poncho – Red Knit Scarf – Jade Sunglasses – Crimson Handbag – Tan Cardigan
Fall is definitely my favorite season! There's just something about the crispness of the air, delicious pumpkin-flavored lattes, and crunchy orange leaves on the ground. Fall also brings the cozy clothes that you love to wrap yourself in. I love tying on a soft, knit scarf and tailgating at a football game. Some people think that dressing warm sacrifices your style, but I've put together a cozy, cool look for less that will leave you with a few dollars left over for that latte.
Wrap dresses are cute and feminine, and they can be dressed up or down. You can always add more layers to this look, or you can keep it simple and let the dress be the main focus.
Scarves and ponchos are quickly gaining popularity this season. Certain scarves can be worn year round, but I love when fall comes around so I can break out my knits. Ponchos are also easy to dress up. Pair it with a scarf, or even a belt, for a look that will look so put together.
Want to keep it casual, but not ready to try the poncho trend? Cardigans are a great way to stay warm while looking cute. There are several types that will be popular this season, like waffle weave cardigans, but I like simple, drawstring cardigans the best. Pair this with a tan cami, skinny jeans, and some pumps, and you're all set for a night out!
Don't let keeping warm be the main focus of getting dressed—you can't forget about accessories! Bold colors are trending this fall, and keeping the colors in your accessories is a great way to start out slow with the trend. Try some jade green sunglasses, or a deep crimson handbag.
So now that you have a little inspiration, it's time to go shopping! All the pieces in this look can be mixed and matched, so you can wear them all season, and even all winter. Enjoy the cozy weather!
Author Bio:
Maggie is a writer for Scarves.net, providing tips on how to wear your favorite scarf. Off the clock, she enjoys experimenting new recipes, watching college football, and crafting.