Craft activities make the season bright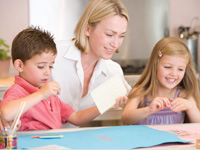 Kids are quickly occupied, often for hours, if you supply them with the tools for arts and crafts. Take a look at some tried-and-true ideas:
Holiday garland: These colourful paper chains are fun for kids to make and they look great around the house. All you need is good quality construction paper, tape, scissors, holiday stickers, glitter, and markers. The instructions here are courtesy of Scotch Magic Tape:  First, cut multiple strips of construction paper (2 cm wide by 11 cm long), then decorate and tape the ends of one strip together to create a circle. Feed another strip through the circle and tape it closed to create interlocking circles. Continue making and taping interlocking strips until your garland is the desired length. The Scotch precision scissors are also recommended.
Be a master of disguise: Sometimes the simplest ideas are the best. Place a piece of clear tape on the table, draw a funny moustache on it, stick it on your face, and wait for the giggling to start. Your kids will quickly want to take their turn drawing Santa beards, reindeer noses, bushy elf eyebrows, or whatever else they can dream up.
Make gift wrapping fun: Let gift-wrapping be a fun activity not a holiday chore. If your child is learning a musical instrument, use sheet music to wrap the gifts. For kids with a sweet tooth, try wrapping presents with candy. All you need is plain red paper, large size bubble wrap, round peppermint candies, scissors and tape.
Get your child's motor running: Turn any wall, floor or table top into the autobahn with a bit of coloured tape and a marker. Your kids will love racing their toys cars and trucks around this homemade race track… vroom..vroom..
Hop to it: Use tape to create a hopscotch playing field and watch as your little ones test their balance, jumping ability and endurance. Your kids will have a great time while burning off the extra holiday cookie energy.
Do you have your own crafting solutions to share? Pass them along and see others on the 3M Scotch Tape Facebook Page at https://www.facebook.com/scotch/app_139167632894105/. For every solution shared, $1 is donated to the Children's Aid Foundation.
www.newscanada.com