Create a Safe Home for Your Pets During the Holidays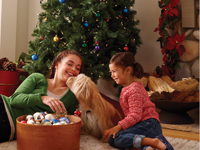 Decorating your home for the holidays is an exciting time of year for families, but small changes in the environment can be drastic for pets. From visiting family and holiday feasts, to decorations and gifts under the Christmas tree, the holidays present many exciting – and potentially dangerous – new situations for your little furry friends. PetSmart offers the following tips to help pet-parents prepare for changes in store:
• Deck the halls with tape and cord covers. Christmas decorations mean extra electrical cords, plugs and plenty of tempting new "chew toys". Pet-parents should take the extra time during decorating to tape down or cover cords to help prevent shocks, burns or more serious injuries.
• Chestnuts roasting on an open fire… aren't good for pets. We often think we'retreating our little ones with table scraps but this "treat" can be harmful since dogs and cats do not have the same digestive systems or nutritional needs as people. Chocolate contains the heart stimulant theobromine, which, even in small quantities, can be toxic to dogs and cats. Keep pet-friendly treats on-hand instead, so they munch safely while still enjoying the feasting fun.
• Hollyis not so jolly for pets… Some of our favourite seasonal décor is harmless for humans, but can be unsafe for animals. Mistletoe, holly berries and poinsettia plants are poisonous to pets, causing severe, upset stomachs. Consider using repellent sprays or a doggie gate to help keep thems away from harmful areas and objects.
More information on prepping pets and keeping them safe can be found in the PetSmart Pet Care Library at www.mypetsmart.com/petcare.
www.newscanada.com