Creating a Back to School Bedtime Routine
Back to School can be a stressful time. Getting back in the swing of things takes time, having a bedtime routine can help you and your child transition easier.
Bedtime Do's, Don'ts and Solutions
BOUNDARIES AND RULES 
DO make bed-time a soothing send-off into sleep. Have your child relax before bed, whether you read a bed-time story or they listen to music for a while give them a chance to unwind.
DON'T turn it into a power struggle. Kids usually are more willing to cooperate if they feel like they are not "bullied" into going to bed.
SOLUTION: Within your set boundaries and rules, allow your child to take responsibility for his actions.
TIP: Each night that bed-time goes smoothly give them a reward, such as a sticker that can be redeemed for something at a later date: movie night, a day at the zoo etc
BEDTIME SNACK
DO offer a healthy snack. Sometimes giving them a little snack will make them less irritable, fill their belly and help them have a better rest.
DON'T give in to sugar-laden foods. Studies suggest that sugar doesn't cause kids to be hyper, change their attitudes or prevent them from sleeping. I however believe that it differs from person to person. Take caffeine for example, I can drink a cup or two at 10 pm and be sleeping by 11pm. My mom on the other hand must switch to decaffeinated halfway through the afternoon or she'll be awake half the night.
SOLUTION: Avoid chocolate, prepackaged snacks, soda and tea. Instead, offer fruit, yogurt or whole wheat bread. By choosing a healthier snack you're promoting good eating habits and supplying their body with the nutrients they need to grow.
 SLEEP SCHEDULE
DO allow 9-10 hours of sleep per night. Kids between the ages of 5-10 need more than 8 hours of sleep. In order for the brain to grow and develop properly, one needs enough sleep. Studies show that sleep influences language development. (source:wikipedia)
DON'T wait until they're overtired to put them to bed. Sometimes putting overtired kids to bed can be more of a challenge. Kids don't understand the feelings associated with overtiredness and may act out or be uncooperative.
SOLUTION: Make an early bedtime a priority by saying no to evening activities. Devote after school to homework.
TIP: Keep the same wake-up/bedtime routine even on weekends. It'll help their bodies adjust to the new routine.
ROUTINE
DO create and maintain a consistent routine. Routine at home is important as it is at school. Keeping the same routine will avoid confusion as the child will learn what is expected of them every night.
DON'T deviate from it. Even if your evening activities vary every week. It's important to stay consistent.
SOLUTION: Stick to the same routine every night. some kids function better when you do the same routine, in the same order at the same time every night. Others only need the same things done but not necessarily in the same order. Learn what works best for your child.
Try making a chart with pictures to help your child understand what is going to be done and in what order.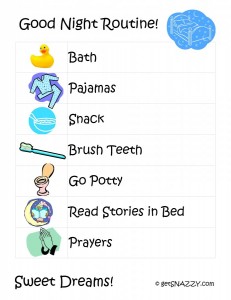 ORGANIZATION
DO create a space in which your child can easily find things in the morning.
DON'T leave too many things for in the morning. If madly searching for lunch kits, backpacks and homework in the morning is something you dread, create a space for them to put these items every night. Incorporate this in their bedtime routine.
SOLUTION: Create a space for them to put their backpacks, papers, jacket and shoes
Morning Do's, Don'ts and Solutions
PAPERWORK
DO overview that their school work, permission slips, etc are in their backpacks.
DON'T wait til the morning to fill in papers, check agendas, etc.
SOLUTION: Make it a priority to check the backpack the night before for any assignments, notes from the teacher, permission slips etc. This is where a designated spot for backpacks comes in handy because then you always know where to find them.
click here for DIY backpack organization ideas
GETTING READY
DO give them ample time to get ready. Every child needs a different amount of time to get organized in the morning.
DON'T confuse them by giving too many instructions or tasks to do at once. Give them one instruction at a time with a set time limit to complete it.
SOLUTION: Have a set time in which they have to finish certain things. For example if your child is a gabby child and likes to talk more than he eats breakfast, set an alarm on the microwave or your phone signalling when he has to leave the table to move on to the next task.
ROUTINE
DO have a morning routine planned out.
DON'T fly by the seat of your pants, so to speak. Having a plan will alleviate stress on everyone.
SOLUTION: Have a chart with pictures so your child has a reference to follow while getting ready.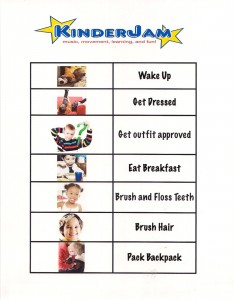 GETTING DRESSED
DO get their clothes ready the night before.
DON'T try to find clothes in the morning while everyone is busy getting ready.
SOLUTION: Get their clothes ready the night before. For some kids having an input on what they wear to school is very important. Showing them their options before they go to bed is a good way to cut out that step in the morning.
LEADING BY EXAMPLE
DO be a role model, kids will follow the leader and watch what you do.
DON'T scramble to find your keys, work bag, etc kids pick up on this and may find it unfair.
SOLUTION: Make it a part of your routine to put things where they belong as you expect them to do with theirs. Pick out your clothes the night before as well.