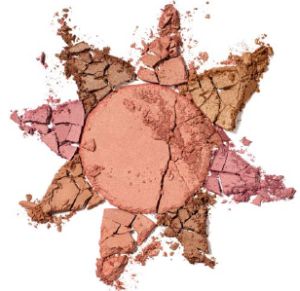 Bronzer should be a staple is every woman s cosmetic bag. Store bought makeup can be very harsh on your skin and can speed up the aging process; for these reasons you might opt for a homemade ALL NATURAL bronzer. The purpose of bronzer is to give your skin  the illusion of a sun kissed look. It should also be darker that your natural skin colour but not more than two shades darker or it will end up looking fake. Bronzer should be brushed in areas where the sun would have tanned such as, the nose, forehead, chin and cheeks to achieve a shimmery glow. For best results, bronzer should also be applied with blush. Click here for our homemade all natural blush recipes!
 Recipe:
1 tablespoon Ground Cinnamon
1 teaspoon  Ground Nutmeg
1 teaspoon Cocoa Powder
1 teaspoon Cornstarch or arrowroot powder
1 Empty container
* The above measurements are approximate and will need to be adjusted according to your skin tone.
 Instructions:
Mix all the ingredients in a bowl. If you prefer a darker bronzer you will need to add more cocoa powder and for a more shimmery bronzer add more cinnamon. Arrowroot will also made the powder feel lighter on your skin