Do thyroid disorders lurk in your family tree?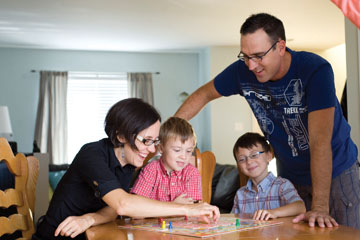 (NC)—Guylaine Pichette looked at her newborn son. Something was wrong. Within hours of his birth, he developed jaundice. His tongue was thick and swollen. He was sluggish and had trouble breastfeeding.
Like all infants born in Canada, Xavier had been screened for a range of genetic and metabolic diseases. Remember the heel prick test that made your newborn cry? That blood sample enables early diagnosis of diseases such as hypothyroidism that may cause permanent health damage.
Test results confirmed Xavier had hypothyroidism, a disorder in which the thyroid glandproduces insufficient hormones for regulating growth, maturation and metabolic rate. Within hours, he was receiving synthetic hormone replacement.
Three years later, Xavier's younger brother, Anthony, was born with hypothyroidism.
The Pichette-Gauvin family has a history of hypothyroidism: the boys' father, Patrice Gauvin, and his two brothers were diagnosed at birth and have been treated with synthetic hormone replacement ever since. The boys' mother, Guylaine, carries the gene for hypothyroidism, but is not affected by it.
Hypothyroidism that is present at birth affects one in 3,000 newborns. Left untreated, it may retard growth and lead to permanent mental retardation.
Dr. Guy Van Vliet, a specialist in childhood hypothyroidism, says: "There is a strong likelihood that children of families with a history of thyroid disease will either be born with it or develop it.  Infants should start treatment immediately after diagnosis, so that health risks may be minimized."
Thanks to early, continuing treatment and being under the watchful eye of an endocrinologist, Xavier and Anthony are developing normally.
For more information: www.thyroid.ca
www.newscanada.com