Essential Beachwear Items for Your Resort Wardrobe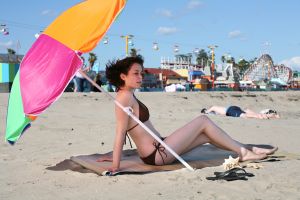 Beachwear is going glamorous this season! No longer are kaftans and sun-hats practical monstrosities that keep off the sun – and suitors too – they are now very much style items of their own.
Kaftan
The kaftan has had a make-over; fine, floaty fabrics swirl around the figure, hinting at curves and revealing a hint of sun-kissed skin, while vibrant colours and floral prints add a touch of femininity. Melissa Odabash and Juliet Dunn are leading a new wave of kaftan design, which combine practicality, as well as an item that's perfect for après-beach activities.
Maxi Dress
For a wonderful maxi dress it is hard to beat little known European designer PilyQ, whose bold styles partner up brilliantly with their bikini and swimsuit range. Again, Melissa Odabash's range of maxi dresses can be worn as an elegant look for an evening out, but equally work well as eye-catching beach apparel.
Espadrilles
Espadrilles, the classic tatty beach footwear have been upgraded. Featured strongly on the catwalk at Miami Beaches recent Mercedes Benz Fashion Week they are channelling the retro spirit of the 50's, picking up on a theme explored in depth by the swimsuit designers this year. The traditional raffia soles are enhanced by bright prints, floral designs and even bows for added embellishment.
Beach Pants
Beach pants are back this year; curvier ladies can safely tuck themselves into these elegant and flowing trousers to enjoy an unselfconscious paddle or session on a sun-lounger or deck chair. Roll-top beach trousers in particular are showing great popularity as seen in Seafolly's wonderfully comfortable yet stylish offering; which feature a button on the calf to allow for a shorter sporty look or for easy paddling. What's more, they can be teamed with a neat modest blouse with dressy sandals for socialising afterwards.
Beach Hats
Beach hats are big this season, huge 50's style brims protecting delicate faces and creating an air of mysterious allure. Swimwear specialists Seafolly come up trumps again with their wide brim creations proving perfect to team up with the sensual retro swimsuits they have produced. Helen Kaminski is another Australian designer who has made quite an impact on the beach wear scene, their hand woven raffia hats are gaining popularity among the A-List and fast becoming an essential part of any beach ensemble.
With swim and beachwear becoming such a hotbed of great design and invention, what excuse is needed to not look fabulous on the beach?
This article was brought to you by leading luxury beachwear boutique Beach Cafe, stockists of leading brands including L*Space swimwear, the ever popular Melissa Odabash, Seafolly, Zimmermann and many other superb deisgners.