Fashion is temporary, but style is forever.
The trends that come and go with both home décor and clothing are a fun opportunity to try something new. But even the best-established trend is no substitute for a classic personal style. When it comes to jewelry, diamond rings, pearls and watches will never go anywhere.
Here are some highlights for Fall.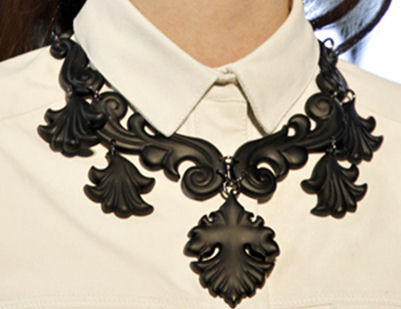 Proenza Schouler
Chunky Filigree
Chunky filigree is popping-up more and more. These accessories channel a more fussy, even baroque look. Pair with classic clothing like neutral shirts and blouses to really make these pieces pop. This style can be seen in large necklaces, cuffs and earrings this season. Because this jewelry is heavier and chandelier-esque it is bold. The wearer should be cautioned and let a chunky filigree piece limit the rest of the jewelry they wear.
Neon Brights
With neon making a big showing last summer it was expected that it would be back again this year. However, the neon/acid color trend was big enough to be dripping over into fall as well. While neon beach tanks and bags should be avoided in the fall, bright jewelry is definitely hip. Especially as the days get darker, it is nice to be carrying around some brightness.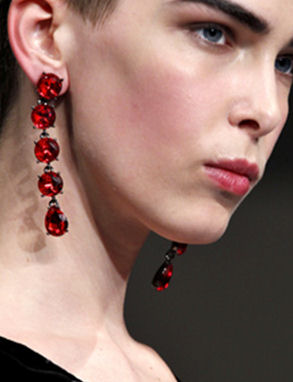 Oscar de la Renta
Dangling Earrings
Maxi dresses are having a moment and earrings are mimicking the length. Long earrings are luscious and should be worn sans necklace. With long hair they add an elegant touch and with a short, cropped cut they really make a statement. Of the Fall trends, this is the most timeless addition.
Floral Fever
Channeling both the rise in baroque/antique jewelry and floral prints the outpouring of floral jewelry is hardly a shock. Knotted vines and blooming roses can be seen wrapping around the wrists and necks of many fall fashion figures. These pieces are generally metallic. Metallics have been big, but lately bronze, copper and rose gold have made moves—instead of the traditional gold and silver. These metallics may better complement a wearers skin tone.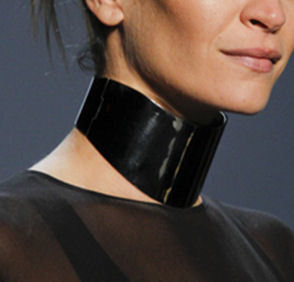 Frankie Rayder
Cuffs and Chokers
I think there are a lot of people who are glad that wrists full of bangles are going out. While the look is good, the constant noise is not. A single, bold cuff bracelet creates all the appeal with a much cleaner look. Some people are a little intimidated by the dramatic statement chokers make, but the look is undeniably clean. These stiff, structured necklaces are sure to last us until the weather makes scarves become necessary.