Fun Ideas for a Kid-Friendly Halloween Party
The fall season is definitely upon us, the leaves are falling, the air has gotten crisper, and the days are getting shorter. Halloween is right around the corner. I have always loved Halloween because it gives me an opportunity to get dressed up, decorate with scary props and give out/receive candy. My kids definitely take after their mother and love Halloween as well.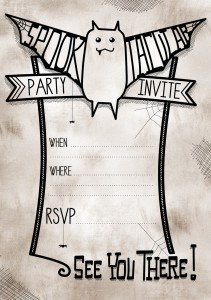 If you're considering having a Halloween party for kids and are at loss for what to do for the decorations, the food, the treats and the goody bags here are some ideas to create a successful kid-friendly Halloween party.
Start with invitations. Decide if it will be a themed party, a costume party, or a come-as-you-please-and-enjoy-the-celebration kind of party. Usually, when hosting a get-together, not everyone you invite will be able to attend but do not invite more people than you can comfortably accommodate.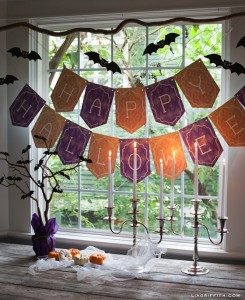 Every party needs cool decorations and I found a great website, Printables 4 Moms, that allows you to print banners, side-walk skulls, drink labels and much more. You can stick to a theme, or choose a little bit of everything. The example that I found is gender generic but you could add some things geared towards girls or boys:  princess and pirate decorations for example.
Next come the snacks. Halloween is usually centered around candy and junk food, but it is possible to offer healthier snacks without the fear of an angry kids mob; such as chocolate covered strawberry ghosts, pumpkin mandarin oranges, and spiders on a log for example.
You can also present sweets; like witch hat cookies, pumpkin cake pops, pumpkin chocolate chip cookies and graveyard pudding.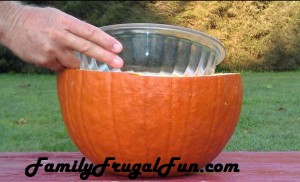 That brings us to beverages. As I said before, you could print labels and attach them to water bottles or other beverages or you could make punch and put it in a witch's cauldron, or simply place a punch bowl inside a carved out pumpkin for a cool Halloween feel. Click here or on the link under the picture for an Orange Crush Sparkling Punch Recipe.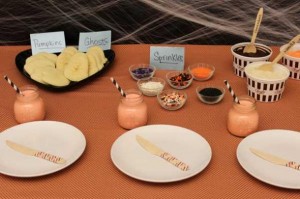 It's not a party without activities and games. My favourite, of all the ones I've come across, is a cookie decorating station. Maybe it's my love (borderline obsession) for cookies or maybe it's that this activity saves me from having to decorate the cookies myself..
If the weather is nice and you're hosting this party during daylight hours, prepare outdoor games like, a water squirt game, pumpkin golf, pumpkin roll and a giant spider web.
Some ideas for indoor fun include skeleton dice roll, bean bag toss, pop the balloon, pin the bow tie on the skeleton, and witch hat ring toss.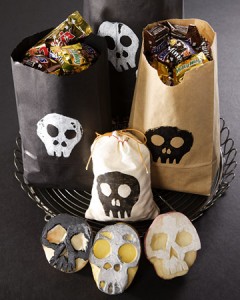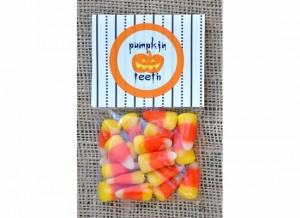 Once the treats have been consumed, the games have been played and the kids (and adults) have full bellies and tired eyes, present your parting guests with goody bags. I love the potato stamped bags; you could put candy and small items like mini Play-Doh containers, temporary tattoos, Halloween shaped crayons, Halloween stampers, creepy crawly bugs, silly glasses, stick on mustaches and collar charms (for the zipper of their jacket or back-pack).