Getting Good Sleep during Pregnancy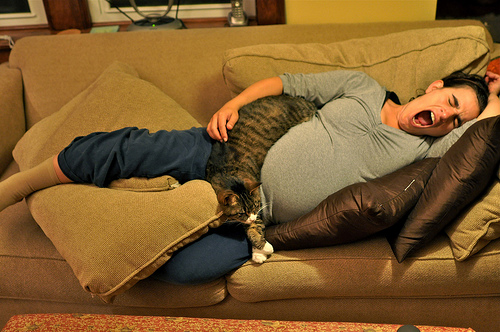 Many women find that one of the most challenging things about being pregnant is trying to get enough sleep. That is why women who are expecting are often exhausted. Between the extra work your body is doing to grow a new life, insomnia, and other sleep interruptions, rest sometimes seems like nothing but a dream. Although sleep should be an effortless thing, it can be anything but for a woman during pregnancy. If you are finding it impossible to get enough rest, try these tips for getting the restful sleep that you really need:
Comfortable Positions
One of the reasons so many women have trouble getting a good night's sleep is because their bodies have changed. A growing belly and spreading pelvis can cause hip pain, a sore back, and trouble sleeping in your favorite positions. This can be especially problematic for those who are usually back or belly sleepers, and must transition to side sleeping.
One way to alleviate pressure and to sleep comfortably is to sleep on your side with one pillow between your knees and one supporting your belly. If you have trouble staying on your side, you may also use a pillow behind your back to provide support and keep you in the right position. When sleeping on your side, the left side is preferable because it provides the most blood flow to your baby. You can alternate sides, however, if you need to in order to be comfortable.
Too Many Thoughts
Even if you finally find the most comfortable sleeping position in the world, chances are that your mind will start racing as soon as you try to sleep. Between work deadlines, appointments, planning for the future, and getting ready for baby's arrival, worries and thoughts can keep you so busy that sleep seems impossible. Excitement, anxiety, and fear combined with the heightened sensitivity of your emotions will play havoc with your brain often.
If you are having trouble unwinding, make sure to avoid caffeine, sugary snacks, and exercise close to bedtime. Instead, set aside some time before bed to meditate, practice deep breathing, take a warm bubble bath, or read a good book to help your mind slow down. Avoid having conversations about stressful topics, watching TV in the bedroom, or surfing the Internet, as these will all keep your senses too stimulated to allow for complete relaxation. Daily exercise can also help you to sleep better, as long as you do so long before bedtime.
Overactive Bladder
Even if you manage to drift off to dreamland, odds are that you will awaken with a painfully full bladder. As baby grows, frequent bathroom trips will become increasingly necessary. While there is no way to stop this completely, there are some steps you can take to reduce those nighttime urges.
You have to stay well hydrated for your baby's health, so minimizing your fluid consumption is not a good idea. Drink plenty of water and caffeine-free beverages throughout the day. In the hour before bedtime, however, try to limit the amount you drink and go to the bathroom right before going to bed. Get in bed and read or relax for about an hour and go to the bathroom again. Although you may still need to get up during the night, this last minute trip will buy you some time to get quality sleep before that happens.
Baby Acrobatics
Even if you manage to defeat all of the other sleep thieves that are robbing you of quality rest, the chances are good that your loving little one will decide to turn a few cartwheels during the night. No matter how much you enjoy these little reminders of your precious bundle of joy, they seem to be less miraculous at 2 a.m. Your baby is not on a sleep schedule, however, and is likely to burst into dance at any time. Since your movements have a calming effect on baby during your waking hours, it only makes sense that your little blessing will become more active as you remain still.
You may be able to limit these nighttime adventures by avoiding sugar and caffeine before bedtime. If you do need a snack, choose one that is high in protein. This will keep your insulin levels steady and will be much less stimulating to the baby. If nighttime movements do happen, do not focus on the clock. This will just cause you to feel frustrated and anxious, and will make it more difficult to go back to sleep. Instead, try to clear your mind and just focus on the physical sensations of your baby's movements. Before you know it, you will drift off again.
Rest
Even if you take all of these steps, you may experience disruptions in your nightly sleep, or you may suffer from insomnia. During your pregnancy, take every possible opportunity to sneak in a quick power nap or just to put up your feet and enjoy the quiet for a while. People expect pregnant women to take care of themselves, so take advantage of the special consideration. If your employer offers to let you leave early, accept it with thanks. If friends or family members offer to help with household chores, cooking, or running errands, let them. You can take advantage of the extra time to get the rest your body so desperately needs. After all, you will soon be even busier and will find it even harder to get the rest you need.
The lack of sleep that many women experience during pregnancy can be attributed to a number of factors. By following these practical tips and suggestions, you can stack the deck in your favor and greatly increase your chances of sleeping peacefully through most of the night. You are tired because of the miracle that is taking place in your body. You are not lazy, or sick, or disabled. Treat yourself like the beautiful expectant mother you are and do not be afraid to get rest any time it is available. Your body and your baby will thank you.
About the Author: Donna Moody is one of the pregnancy advisers for LearningLives.org. She uses her experiences as a mother, teacher, and woman to help others get through their pregnancy successfully.