Give your Child an Inviting Space to Study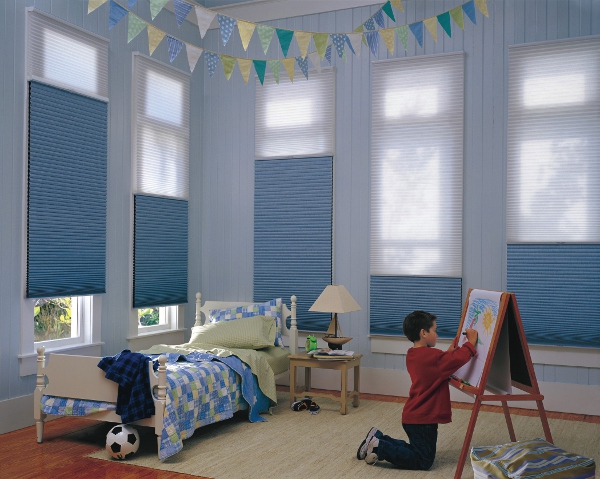 A long with a fresh pack of crayons and pristine notebooks, your children will likely appreciate a fresh look for their rooms. Sally Morse is the director of creative services for Hunter Douglas, a leading name in Canadian window treatments. Take a look at a few of her best tips to do a makeover easily:
A special place – Since it's important for your child to have a special space in his or her room dedicated to schoolwork, you can use moldings, a screen, or even a curtain to separate the space from the rest of the room.  A closet may even be converted into a study area with storage transferred to an armoire or under-the-bed containers.  Wherever the study area is, make sure it is equipped with a good work surface and outlets for a computer and task lamp.
Create an appealing atmosphere – Take a cue from your child's special interests to select a theme for decorating their room and creating an inviting setting they'll look forward to spending time in.  Some examples:
Ocean – If your child thought their vacation at the beach was pure heaven, they can return there in memory with a beach-themed-bedroom.  Use watery blues on the walls and sand-coloured floors.  Wallpapers, posters and prints with beach scenes also add to the seashore setting.
Animals – For the child who is crazy about animals, select wallpaper, posters and prints featuring those they are most interested in.  Whether inspired by the jungle or a favorite stuffed toy, animals can, with a child's imagination, turn into pleasing imaginary playmates.
Sports – Sports enthusiasts of both sexes will enjoy having mementoes of their favorite sports, whether in the form of trophies, room accessories or team pennants.  Skates that have been outgrown can become decorative elements on shelves.  For the child who developed a passion for rowing, oars painted in bright colours can be transformed into wall décor.
Gardens – Stencil, paint or glue flowers on lamps, headboards and walls to help recreate the natural beauty of an outdoor garden inside the room.
Stars and moonlight – A little night owl will enjoy seeing the planets on the ceiling and perhaps a few shooting stars that decoratively land on walls and furniture.  Natural light can be transformed with the right window treatment to help create an ethereal mood across the room.
Sleep tight – Be sure your child can sleep soundly with window treatments that block out the light and noise.  Hunter Douglas, for example, offers an array of light-blocking designs and all of its window treatments are rated for sound absorption.
Be safe – Above all else your child's room needs to be a safe haven.  Use window guards and safety netting to help prevent falls, corner and edge bumpers to prevent injuries from sharp edges and outlet plugs to prevent electrical shocks. On the window fashions, minimize the safety hazards of operating cords with the LiteRise cordless operating system.
More information is available online at www.hunterdouglas.ca.
www.newscanada.com