Gold Jewellery – Keep it Looking Pristine
Gold jewellery stands out from the crowd because of its striking colour, strength and quality. This metal is normally used to make stunning pieces of jewellery because gems can easily be set into gold, whether in the form of a diamond engagement ring or a beautiful pair of earrings – so you'll no doubt want to take good care of your gold jewellery.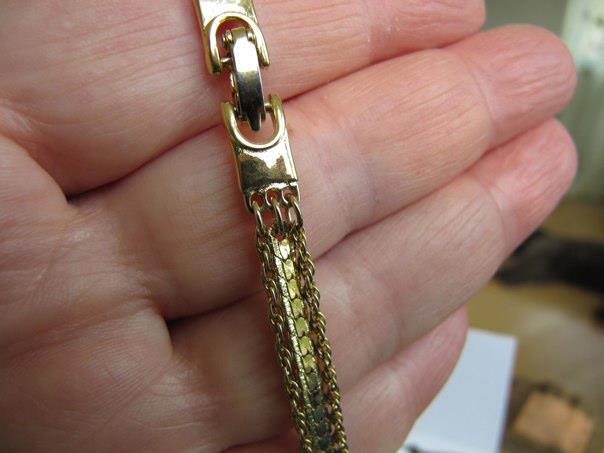 Pure gold, also known as 24kt gold, is rarely used for jewellery as it is too soft and prone to being scratched. This is why gold is mixed with other metals and 18kt is a popular choice because of its gorgeous nature and quality combined with added toughness. There are different types of gold – rose gold, white gold and yellow gold – and these colours are achieved through the mix of metals in the gold alloy. Your jewellery may contain all three types, such as a Russian wedding ring which has a band of each colour, or be two-coloured or simply one.
Gold jewellery is hallmarked to show quality, including where the metal was tested and its purity level. While the greater the parts gold to the parts metal, the more valuable the jewellery will be, 9kt gold is considered best for everyday wear as it is more resistant to scratching.
Whatever type and quality of gold jewellery you own, you'll naturally want to take good care of it to keep it in the best condition. Here are a few tips to help ensure you look after your gold pieces and keep them looking beautiful for longer.
Be careful
As gold is a soft metal it can be scratched if you're not careful with it. This is especially true when it comes to gold rings, as these are exposed to the elements and knocks too. Make sure you remove your jewellery before undertaking any strenuous activities like gardening or dog walking, when bumping into items is more likely.
Gold can also be damaged by chemicals, including chlorine which has a particularly adverse effect on the metal. This is because chlorine weakens the structure of gold which can ultimately cause a total breakage. Always remove your gold jewellery before you go swimming or enter a sauna, and take care when using household cleaning products also – it's best to wear rubber gloves or remove your jewellery before you start. Also, let your perfume and other beauty products dry on your skin before putting your jewellery on.
Clean regularly
Gold does get dirty and will lose its shine after a while, when exposed to the elements, moisture or oils from your skin. You can polish regularly using a soft cloth, or for gold jewellery set with gems try gently rubbing with an old soft toothbrush and mild washing up liquid before rinsing and leaving to dry thoroughly.
Store safely
When you're not wearing your gold jewellery, it's important to store it somewhere it can't be damaged – in a jewellery box or wrapped in a soft cloth. If possible, keep your pieces separate to avoid them scratching one another or becoming entangled.
Pay attention
If you do spot any signs of damage on your pieces, get the jewellery repaired before the situation worsens. Pay particular attention to clasps to avoid these breaking and the jewellery falling off, and prongs to prevent any loss of stones.
Saswa is a well loved Welsh jewellery retailer selling products by Carrie Elspeth