Head Back to School with a Healthy Body and Mind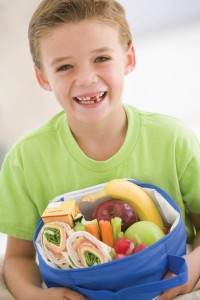 As summer comes to an end so will the luxury of sleeping in with lazy days and late nights. With vacations winding-down as well and school starting again, families are being forced back into their usual routines. The good news is: this is the ideal time to set the stage for a healthy and successful school year.
The beginning of any school year can influence your kids' confidence, academic performance, social encounters and overall attitude – and therefore it's important to make sure they are properly prepared.  To make things easier, the Canadian Health Food Association (CHFA) has the top three tips to help your children, and you, get ready for a great start:
• Re-establish a routine – After a relaxed summer being quickly forced into a strict routine can be difficult and stressful, especially for young children.  Use the last week or two of summer vacation as preparation for what's ahead.  Have your child practice getting up and dressed at the same time and if possible take it a step further and plan a morning activity that will require them to leave the house at a specific time.  Getting them back into a routine before school starts will make the back-to-school transition that much easier.
• Nourish them – Making sure they have time for a healthy breakfast is extremely important as it has been proven that children who are well nourished perform better in school.  A healthy lunch with snacks is also important to ensure their energy levels and concentration remains optimal throughout the day.  Finally, having healthy snacks on hand for when they arrive home will decrease the chances of them overindulging in foods full of sugar and empty calories.
• Set a consistent bedtime – Getting at least eight hours of sleep per night is vital for mental and physical wellbeing, and the best way to achieve a good sleep is to follow a set bedtime. But sometimes, the hours of sleep do not necessarily mean quality sleep. If your child has this problem,  try tart cherry juice.  According to CHFA, studies have shown that Montmorency cherry juice increases the levels of melatonin in the body, which can have a positive effect on the amount and quality of sleep.
More information for a healthier family is available online at chfa.ca.
www.newscanada.com