Help Your Kids To Be More Active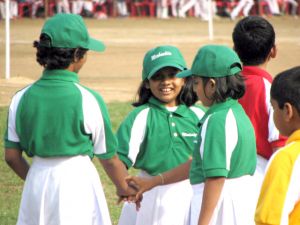 When it comes to finding ways to help develop the skills a child will need to succeed in school, later in a career, and becoming the best person her or she can be, look no further than team sports. Playing competitive sports as a child encourages a wide range of development in a child's personality and body.
Social Skills
Team sports offer an opportunity for kids to interact with their peers in some unique ways. Team sports, such as soccer, basketball, football, and many others, develop a wide range of social skills.
Cooperation. Children involved in team sports must learn to work together with their teammates to reach a common goal.
Sportsmanship. Children will learn how to interact with opposing teams. They must be taught how to both win and lose gracefully. This skill will serve these children well all of their lives.
Making friends. Children playing sports on a team together will spend a lot of time together. Close friendships are often formed between team members.
Cognitive Skils
For some, sports are seen as a mindless way to pass the time. Sports can be seen as simply a way to have fun and for children to play rough. While sports are fun, and offer important physically active time, there is much more involved.
Problem solving. Your coach tells you to run a certain play when suddenly the other team makes an unexpected change making that play impossible. The child must think through the best way to handle the situation and solve the problem by using a different strategy.
Memory. Being involved with a sports team often means learning and memorizing many different strategies and plays. Studying and remembering these strategies will make the child more successful in their sport, and these skills will hopefully carry over to their schoolwork.
Physical Fitness
It is a well known fact that childhood obesity is on the rise. According to the Center for Disease Control's website, obesity in children is rising significantly, and obesity in childhood paves the way for many health issues throughout the child's lifetime. Help combat this trend with more physical activity.
More active time. Youth soccer games, for example, are forty minutes long. Even if a child does not play the entire time, the time they do spend playing will be incredibly active.
Gross motor skills and coordination. Being able to kick a soccer ball accurately or shoot a basketball require hand-eye coordination. Practicing these skills regularly while involved in a team sport will perfect these skills for children.
Team sports can be an excellent additon to a child's life. Encourage your child to try team sports, and then proudly watch as they develop into well rounded, healthy young people.
As an amateur sports coach, Keith Barrett uses football trophies as a motivational aid for many young players.