Hot trends in back-to-school supplies: Fun meets functional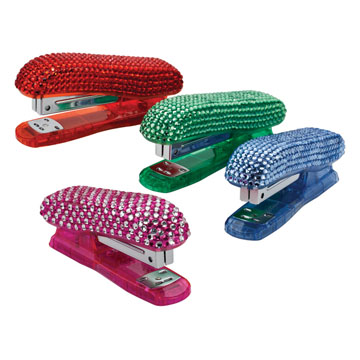 (NC)—The long days of summer are coming to a close and it's time to think about the new school year. While the prospect tends to leave kids with a sense of dread, it's nothing that can't be cured with a little back-to-school shop therapy.
"I believe children of all ages will adore the new school supplies available this season," says Pete Gibel, vice president of merchandising at Staples Canada. "We're seeing lots of novelty writing instruments such as animals, flowers and funny hands. The back to school assortment has been updated with designs and functions that appeal to all ages. We are seeing a trend towards bold colours and customized products."
Six- to twelve-year-olds:
• Eye-popping pens feature funny-faced athletic characters with hilarious googly eyes. They're fun, colourful and collectable.
• Animal Flower-Power pens are flexible and come in a variety of colours, making note-taking a lot more fun.
• Crazy shaped calculators bring out arithmetic's silly side. Choose from great designs such as cows, bananas, sunflowers, owls, penguins or panda bears.
• Fun backpacks and lunch bags appeal to both boys and girls.
Thirteen- to fifteen-year-olds:
• Making your mark is easy with these five bendable and collectable hand-shaped pens. They can be personalized to match your mood.
• Tattoo, a Staples Canada exclusive, allows kids to colour in binders, notebooks, and on pencil cases and backpacks.
• The Colour Me Happy Zwipes 3-ring pencil pouch is part of the Zwipes writeable product line. Kids can write down anything they want, and then erase with ease.
• The best staplers are now covered in bling. The sparkle staple is small, portable and comes in four colours.
Sixteen- to seventeen-year-olds:
• The Five-Star brand is the real star this season. The binders have hidden pockets that help keep kids organized with file dividers and mesh pockets for easy access. The fabulous and fashionable notebooks come in a variety of colours and designs that kids can coordinate with their binders.
• Locker Gear—another Staples exclusive—is going sophisticated with stamp-metal, cut-out designs that are available in black or white.
• Tony Hawk-designed notebooks, inspired by the really cool skater himself, are totally radical for the skater dude and dudette.
• The soft fashion flowers magnetic photo hangers with three clips are a great way to show off pictures—at school, work and home.
• There are a wide variety of backpacks to carry your laptop, that won't hamper your style.
"We are very excited with the assortment this year and think that students will be as well," said Gibel. "Unlike other products we've seen, these fun back-to-school products encourage kids to develop their individuality and creativity, which is just as important as the three Rs." An up-close and personal view of all these products can be found at a Staples store near you.
www.newscanada.com