How to craft a lot of fun for the holidays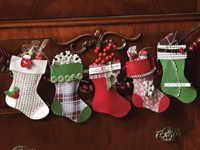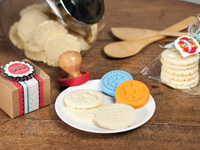 (NC)—Across our beautiful country, Canadians are actively preparing for one of the "most wonderful times of the year". They gather in the homes of their loved ones, sing carols in front of a crackling fire and decorate their homes with holiday cheer. Because of the brisk air outside, Canadians are poised to take full advantage of the warmth that homemade holiday décor can bring to their homes.
"The holidays are a perfect time of year for families to get together and get creative," says Shelli Gardner, cofounder of Stampin' Up!, a crafting and décor company explains.
"Whether you're decorating your house prior to the festivities, creating a perfect table setting for your holiday meal or gathering all of your memories in a scrapbook, our crafts will give you and your family a lot of options this holiday season."
There are so many ways to add the perfect pinch of pizzazz to your home says Gardner, and here are a few:
Decorate
Nothing is more festive during the holidays than a perfectly festooned home. Stampin Up! offers you a variety of ways to turn your home into a yuletide extravaganza. The holiday stocking Bigz L Die, for example, lets you cut paper or fabric to create your own stocking. Bigz décor elements are fantastic holiday-themed vinyl pieces that create a beautiful damask background to bring the spirit of the season right into your home. You can also add a hint of holiday flair with the stitched felt and quilted satin ribbon, which allow you and those you love to design the perfect tree ornament or greeting card. Top these off with mini jingle bells to make your seasonal projects and décor ring out.
Greet
The designer series paper makes the art of card creating a cinch. You and your family will want to wrap yourselves up in these warm textures to create cozy cards for the holidays. Nothing spreads cheer faster than handmade greetings. You can even add a touch of glimmer and give them an antique look with embossing powder.
Set the table
Letterpress plates give an embossed look to items, lending a hint of year-end joy to any gathering. Use various cards to assign place settings, label dishes and create cocktail themes. The time it will take your family to make the table cards will definitely allow the chef of the house to focus on the feast.
Give
The holiday spirit is built around love and generosity for others. There is no greater way to share your love than through a personalized gift. Why don't you bake some homemade cookies and customize them with sweet pressed cookie stamps to give to your neighbour who shoveled your driveway last week? These stamps are food- and kid-safe and can be used with your favourite shortbread cookie dough or fondant. Better yet, give your sweets a personalized touch by placing them in a homemade decorated box wrapped with the designer series paper and designer fabric.
"As you can see, there are so many ways to add seasonal merriment to your home," says Gardner. "Anyone interested in learning more about these creative ideas is encouraged to attend a demonstrator's workshop. Visit www.stampinup.ca to find a demonstrator in your area and add a little spice to your holiday.
www.newscanada.com