How to Dress Your Kid for Less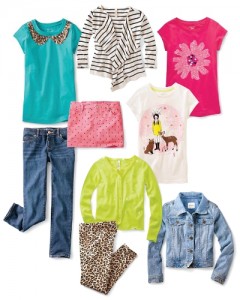 Summer is winding down, growth spurts are in full swing and kids are in need of a wardrobe overhaul for the new school year.  Afiya Francisco, a style maven and mother of two, has partnered with Target Canada to help parents get their kids ready  in style without breaking the bank.
"As many parents can attest, kids grow up way too fast – literally," she begins. "I find I'm constantly updating shoe and t-shirt sizes as my little guys get older.Shopping for kids can start to add up – especially once they start developing their own style and tastes, but fortunately there are ways to keep your kids looking great without spending a fortune."
Here are Afiya's tips for fashionable and affordable back-to-school shopping:
Make summer pieces go farther – The fall weather can still be quite warm, starting out cooler for the morning bus ride and then it's sweltering come first bell.  Dressing in layers is not only fashionable but functional for kids this season.  Layering a new wool cardigan with a graphic tee not only looks great, but makes pieces last longer – and work harder – for you and your kids.
Good design at affordable prices – Depending on their ages, kids' clothes may only last a season or two, but it's important to look for pieces that are made well, feel good and can survive the wear and tear of the school yard.  Parents don't need to spend a fortune though.  Clothing lines like Circo and Cherokee have quality fabrics and classic styling that can be complemented with accessories of the season.  When the clothes survive a school year, they can then be passed down to the next sibling in line and still be in good shape.
Update the classics – For mom's sake, hopefully a few staple pieces from the previous school year will carry over to the next year.   It's easy and inexpensive to create a fresh look for the year by simply adding accessories – from clips, shoe laces, and hats to patterned backpacks, pencil cases and notebooks, with the addition of these updated pieces, no one will take note of last year's items.
More information is available online at www.target.ca.
www.newscanada.com