How to Fall into More Activity as Autumn Arrives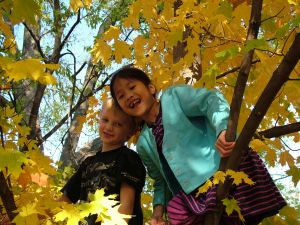 Back-to-school is a time to get back to routines and focus on school and work, but the change in activity and cooling weather often results in a more sedentary lifestyle.
We all know that being active is good for us.  Not only does it keep us healthier, activity can also reduce stress and it helps us adjust to shorter hours of daylight and to our new fall schedules.  To help achieve your fitness goals and stay motivated, start with these simple steps:
• Park further away or get off the bus or subway a stop or two earlier and walk the rest of the way.
• Invite your spouse and kids to take a walk with you after dinner and use the time to reconnect and get a bit of fresh air before settling down to homework and other chores.  • Exercise has the additional benefit of helping to improve sleep.
• Encourage your kids to get involved in athletics at school.  School sports are a great way to build friendships, a sense of teamwork and inject fun into an active lifestyle.
• Encourage activity breaks between studying.  Even a short break to stretch will help your child focus and maintain energy levels
• Make sure you have the right gear to keep everyone motivated.  Comfortable, well-fitting sportswear and athletic shoes will make every activity more enjoyable.  Look for brands with a reputation for style and durability. For example, Sears tells us they carrymany national brands like Nike and Reebok, and it is the exclusive Canadian retailer for Converse apparel. And while you're there, it's easy to pick up those crucial back-to-school basics such as back packs, lunchboxes, clothes and uniforms.
More information is available online at www.sears.ca.
www.newscanada.com