How To Get Red Carpet Ready In Less Than 15 Minutes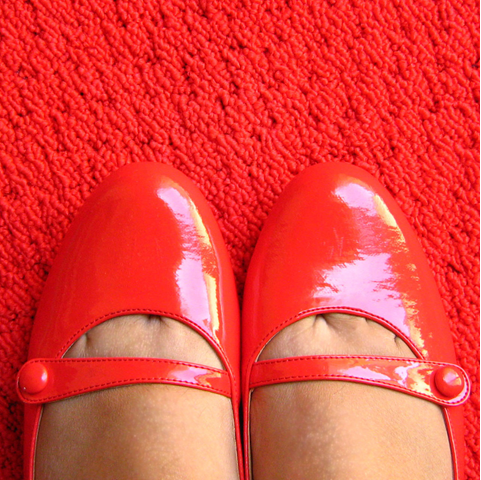 Image: Luz Adriana Villa A.
The 85th Academy Awards took place on February 24th 2013 and London's biggest fancy dress Purim party on the Thames was held on the night before. It's no coincidence that my friends and I chose costumes related to movies and film stars. In an instant my crew included a traditional Hasidic couple from Fiddler on the Roof and Woody Allen in his youth (I wondered where he left Annie Hall. Probably in Manhattan.). I decided to dress up as one of the Desperate Housewives.
Lights
I put on the most fabulous cocktail dress I could find and wore yellow marigolds to indicate my devotion to dirty dishes and other chores. I didn't really think of Gabrielle as a chignon type of woman, so I simply straightened my hair.
Ombre is a dip-dye style that's really in fashion currently and the different shades stand out more if your hair is straight. Also, in my experience it's better if you wash your hair one day before straightening it. This way you're not at risk of having too many small hairs flying around and not obeying your hair straightener.
Camera
As my dress was blue, I applied blue eye shadow. Blue is also the number one choice (in my opinion!) for brown eyed girls. I followed the classic rule on eye shadows, meaning I used the lightest colour in the corner of my eyes and as I got closer to the edge on my lid, I used darker shades of blue. When I finished, I smoothly erased the edges of the different shades with a small brush to make it look even.
As for my dress… It's so beautiful it brings even the least feminine girls to their knees. It's a dark blue silk onion dress with three roses on the left side. I put on grey velour high-heeled boots. I thought it gave me an edgy look and it was something different from the usual combo of cocktail dresses and black heels. It was definitely the warmer choice.
Action!
Many of you must be familiar with the problem of having a skin tone too white – fabulous dresses are usually associated with fabulous weather and a tan, which is hard to get in the middle of winter. Luckily I came up with a solution for that, too – what housewife would I be if I weren't performing magic every other minute?
My trick is to add a dash of bronzer to moisturiser and I call it the bust serum. This way you can save a trip to the solarium and you don't harm your skin but look naturally tanned even in the winter.
It's not that difficult to look glamorous for nights out, is it? Let me hear what fashion tricks you girls have up your sleeves!
Réka Blazsek is a fashion and beauty blogger who aspires to be a Gabrielle Solis lookalike on her nights out. She writes for Triactol.