How to Get Your Beach Body Back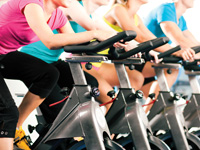 Warmer temperatures tell us that swimsuit season is just around the corner. Maybe you meant to start shaping up back in January, but it didn't happen. So now you're wondering how to get speedy results.
Luke Corey, a registered dietitian and host of the popular boot camp Achieving Your Summer Body, says, "The good news is that you can be confident on the beach and slim down and shape up in as little as four to eight weeks. By safely losing up to two pounds a week, you could significantly alter your summer body."
To help you get the body you want this season, Corey offers the following five tips:
1.    Write it down to drop a pound: Write your goals down and re-read them regularly. Keep them somewhere in plain view like on your bathroom mirror, on your fridge or as the screensaver on your phone.
2.    Know your number: Be safe while losing weight. Understandably, you want fast results, but it's important to understand how many calories you need daily based on your age, sex, height and overall lifestyle. Cutting too many calories and losing too much weight too fast can undermine your health goals.
3.    Don't restrict yourself: Allowing yourself to indulge from time to time can actually help you stay on track. If you like soda pop, for example, Corey suggests Coke mini cans, which offer a smaller portion sizes. Love burgers? Consider keeping calories in check by having a slider, skipping the cheese and loading it with your favourite vegetable toppings, like lettuce, onions and tomato.
4.    Get moving: It's tempting to see quick results, but working out too intensely, particularly if you've gone from couch potato to fitness fanatic, could put you at risk for injury. If you are a beginner, start with less intense exercises such as brisk walks and go from there. For the more experienced athletes, try adding new activities to rev up results.
5.    Start now: Confidence is key, says Corey: "Within one month of healthy eating and regular exercise, you can start to see an improvement in energy levels, a moderate amount of weight loss and some increases in muscle tone," he says. "Together, they will increase your confidence on the beach so it's definitely worth getting started now."
More health and wellness tips are available online at www.completehealthandnutrition.ca.