How to stick to your fitness goals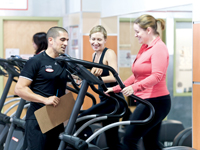 You can reach your health resolution goals if you have your eyes wide open, and arm yourself with some key pieces of knowledge. From Chris Laperle, GoodLife Fitness'personal training regional manager with Alberta GoodLife Fitness, here are some proven tips to help you get there:
• Seek small victories: Break your goal down into small goals you know you can do. If you're busy, and are booking workouts twice a day, everyday, there's a greater chance you'll fail. Instead, check your schedule, start small and grow from there.
• Gather support: Tell the club receptionist that you're proud of yourself for getting to the gym for the second time this week. Share your workout goal and schedule with coworkers so they don't book conflicting appointments. Hire a personal trainer to increase your chances of success by 80 percent. Tell your friends and group exercise instructor about your resolution, and update them on your progress and challenges.
• Drink more water, eat a little less: If you try to cut out entire food groups or survive on celery and water alone, you will fail. So try eating a little less. When out, eat slowly, savour the flavours, and take half home for lunch the next day. Your metabolism slows down after seven in the evening, so aim to finish supper before that to burn more calories than you would store as fat. Studies show that drinking 500ml of water 30 minutes before a meal reduces your hunger so you eat less at the meal.
www.newscanada.com