How To Throw An Indoor Picnic Party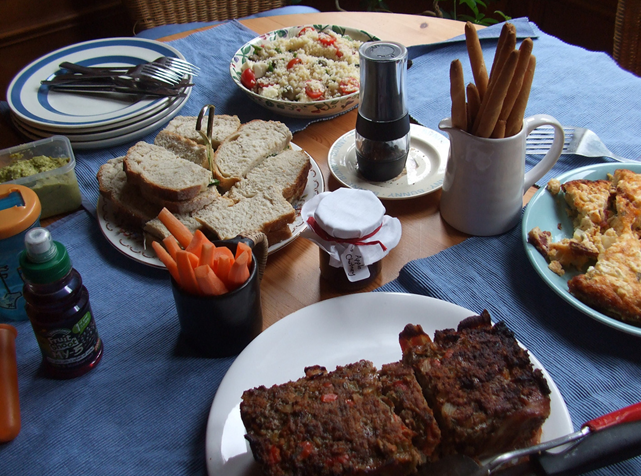 Image by: chatirygirl
Despite the weather resembling a hard cold winter, that doesn't mean to say that we shouldn't wait around to have some summer fun! There's no need to rely on waiting for a sunny day; bring the outdoors inside and throw an indoor picnic party for your kids.
How To Prepare
You're going to need a bit of room to avoid feeling cramped; and making sure your young guests are comfortable! Try and pick a room where you have the biggest open space, and move any furniture which might get in the way. To make you feel like you really are outdoors; pick a room with lots of light and windows.
Make sure you have everything you need within reach. If you have one, use a picnic hamper to fill with plates, cutlery and napkins to avoid going back and forth from the kitchen.
Make It Look Like A Party!
You want it to feel like the summer is here! Bunting is always a great decorative accessory and you can purchase it from almost any gift shop. If you don't want to spend a fortune on this, then you can get plastic bunting from your local pound shops.
A picnic wouldn't be a picnic without a blanket! If you don't have one big enough then mix and match to create a carpet of picnic blankets with cushions to sit on. Balloons are also an easy and quick way of transforming a room- without going to too much effort!
Set The Mood
You don't want a drab and boring atmosphere to reflect the weather. Find some upbeat background music that will get your kids in the party picnic mood! You can also link some popular party games with your music; a musical statues is always a favourite and always provides great entertainment!
Provide Some Nibbles!
If you are inviting other children to your picnic party, depending on how much time you have you could ask their parents to get in on the game and bring something of their own. If you are going to do this then try to establish who makes what, so you don't get too much of the same thing!
Crisps and sandwiches are a perfect picnic food and are easy to make – just keep your sandwich fillers simple and your nibbles varied! You can also the kids involved with your lunch preparations- this can be as simple as letting them butter the bread or bake some cupcakes if you're feeling creative!
Keep Them Entertained
Try to come up with a few games to play before and after the picnic. Picnic parties can provide the perfect opportunity for some imaginative play. Get the dressing up box out and let their imagination run wild with princesses and knights in their very own make-believe world.
Your Secret Weapon
You'd think the most essential item would be your picnic blanket, but no. It's your mess-minimisers you'll be thankful for! Wipe easy tablecloths are perfect for any activities involving little ones; they catch crumbs and spillages, and are easy to wipe down after. The last thing you want is drink spilt on your favourite cushion and crumbs in your carpet! After a long day of indoor fun the less clearing up you have to do, the better.
Do you have any more suggestions for holding the perfect sunny day picnic indoors? Post your ideas in the comments below!
Featured images:
Rosa Sherwood is imaginative and enjoys being creative with ideas. She likes to make the most of her days at home.