Improve family literacy with 15-minute fun activities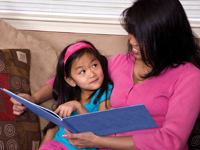 Parents are a child's first teacher. Kids look up to them and mimic many of their daily routines. So even at the end of a school day, it's important to ensure that learning continues at home. Spending just 15 minutes a day learning together with your children can go a long way to developing a love of learning and improving literacy skills.
In honour of Family Literacy Day's 15th anniversary, taking place across the country on January 27, 2013, ABC Life Literacy Canada offers five, 15-minute bursts of learning activities for both parents and kids:
• Read a story to your pet (or stuffed animal or friend). Children's books are usually short, and are a breeze to get through in 15 minutes.
• Tell four knock-knock jokes. This helps practice oral communication.
• Text a friend or family member and tell them about your day.
• Bake some cookies. Most recipes take less than 15 minutes to prepare, plus, measuring ingredients helps children understand math and numbers.
• Log on to your favourite online word game during Family Game Night. There are great games available at www.hasbro.ca.
More information is available online at www.FamilyLiteracyDay.ca.
www.newscanada.com