Looking Good When Flying!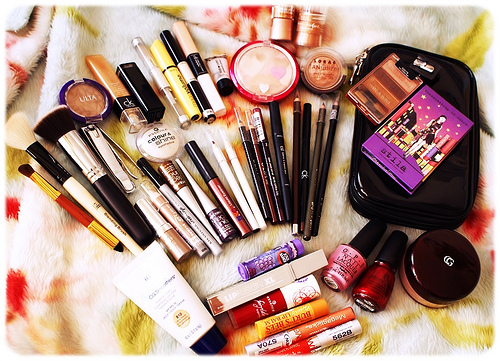 When you step off of the plane and are greeted by a blast of hot air, streaming sunshine and a blue sky you want to be looking as glamorous as possible, ready to take on your holiday. Unfortunately for most however, flying really does take it out of us. Not only does it dry out your skin and gives us creased clothes, it also leaves you extremely tired, making it a difficult task to look your best when travelling. Thankfully, there are a few tips and tricks that can help you look just as fantastic getting off of the plane as you did when you got on it!
Makeup
Makeup plays a crucial role in preventing that jet-lagged, baggy eyed look that we all know too well, all it takes is a few staple products that you know how to use properly. The 4 main items you'll need to keep that pre-holiday glow are:
Foundation – One of the most important items that you'll need, foundation is a great way to keep an even skin-tone, hide any blemishes and cover that flushed look when the cabin is too hot.
Mascara – They say your eyes give away secrets, and this is certainly the case when you're tired! Mascara is a quick and easy fix for tired eyes, giving them a lovely pop to help you look awake.
Concealer – Arguably the most important of them all, concealer is most useful for disguising those tell-tale dark bags under your eyes and replacing them with a youthful glow.
Blusher – To stop yourself from looking too washed out, a dash of colour on your cheeks can work wonders. Choose a natural looking colour, nothing too bright, to avoid looking sunburnt before you've even arrived!
Take your makeup on the plane in your carry-on bag and reapply when needed. Obviously on a 2 hour flight you won't need much of a touch up, maybe just an extra lick of mascara to brighten your eyes up, however on a long-haul flight you may feel like you need to reapply your entire look. If this is the case, be sure to take some facial wipes with you on board so you can remove and re-do your makeup when necessary as simply adding more onto your face will only increase your chances of dry skin and blemishes.
Picking your outfit
Choosing what to wear on your journey is often a difficult choice, on one hand you want to look fantastic, on the other you don't want to be too uncomfortable sitting in the same seat for 6 hours. Despite common belief, being comfy and chic is possible, it simply relies upon a bit of forward thinking when it comes to your outfit choice.
For example, being comfortable doesn't mean wearing your favourite pair of tracksuit bottoms (unless you want to that is!). Investing in a pair of casual trousers, perhaps some loose fitting jeans or chinos, can do you a world of good and can be used as a base for any comfortable outfit. Stray away from tight fitting clothing, such as skinny jeans or leggings, as these can become extremely uncomfortable particularly if you suffer from puffy ankles and legs after a long flight. Any loose-fitting tops are a good idea, such as a fashionable sheer blouse or a plain t-shirt. These can then be layered with a cardigan, keeping you warm on the plane but can be taken off once you land.
Footwear-wise you should definitely choose something comfortable, and appropriate for your destination. For example, for flights to Lapland you don't want to arrive in flip-flops and likewise for holidays in Turkey you don't want to be wearing snow boots!
Choosing a hair style
When it comes to your hair on a plane journey, less is definitely more. The dry atmosphere tends to make hair go a bit limp, so a simple up-do is a great, easy way to keep a bit of volume in your hair. For a stress-free style, backcomb the roots and pull it up into a high ponytail, this sleek look is guaranteed to stay put for the length of your trip and will stop your hair getting knotted on the headrest! If you're more of a hair-down kind of person, be sure to take a hairbrush or comb with you so you can go over your hair before you land.
There you have it, with just a few simple tricks and a bit of forward planning you can easily look your best whilst flying. Remember, always pick an outfit that you feel comfortable in and that won't get too creased on your journey, keep your makeup in top condition by touching up when needed and choose a sweet but simple hairstyle to ensure all eyes are on you when you step off the plane!
This article was written by Ted Hunter on behalf of Travel Republic. Travel Republic specialises in cheap holidays abroad for all tastes and budgets. Ted is an avid travel enthusiast and enjoys writing for the various travel blogs that he writes for.