Make dinner time family time says Alouette, Scott Flory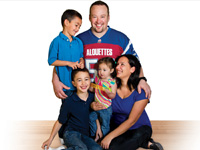 Being a professional athlete in one of the most physically demanding sports takes dedication and focus to stay on top of your game. But being a devoted husband, father to three kids, and a professional athlete takes determination to a whole other level.
"My family is my number one priority," says eight-time CFL all-star, Scott Flory, offensive lineman for the Montreal Alouettes. "Everything we do, we do as a family and with the CFL schedule taking me on the road throughout the season, it's important to my wife Natasha and I, to spend as much quality time as we can together."
But let's be honest, being a parent to three kids takes a lot of agility and effort too. Every day is game day – regardless if you're a professional athlete or not – and a busy dinner time can feel like the 4th quarter when you are down a few points. In celebration of the 100th anniversary of the Grey Cup, the CFL is teaming up with Nestlé to share how their players deal with family life and its everyday meal challenges. Here, Scott and Natasha share their tips on winning at dinner time:
Everyone to the table "Dinner time is our time to reconnect," says Scott. "We talk about our day and the kids tell us what they learned in school." Get your kids talking by not only asking about their day, but how they felt about it: Was it a good day? Sharing emotions is a healthy habit to get into at any age and the dinner table is the perfect place to open up.
Kid-friendly meals quickly It's safe to say that most kids like pizza, and the Flory kids are no different. "They could eat Delissio pizzas all the time," laughs Scott. "And it's all about balance — getting the kids to eat something that doesn't take long to prepare so we can get off to our next activity," says Natasha. Pizza is great paired with a green salad or raw veggies and meals are a great time to encourage kids to drink milk. The family favourite, Nesquik, for example, allows you to make milk fun and delicious with the chocolate flavour kids love, while you control the amount.
Dessert days While the Florys don't eat dessert with every meal, when they do, the kids' love ice cream. "Our kids love Mini Drumstick cones and as parents we love them because they're a small treat that always brings big smiles," says Natasha.
These tips and other solutions to feed real life can be found online at www.nestle.ca.
www.newscanada.com