Making Your Own Halloween Costumes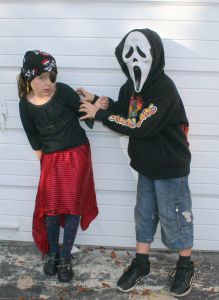 It's that time of year again! The leaves are changing colors, there's a chill to the air, and pumpkin patches are cool again. That's right…Halloween is on its way! Many parents break into a cold sweat at the mere mention of this holiday, envisioning expensive costumes and kids amped up on sugar. Why not forego store-bought costumes this year, and make them yourself? Printable coupons and savvy shopping will make this a fun, affordable alternative that will create lasting memories for you and your child.
Zoë
The giggly Sesame Street character with the pink tutu and a vivid imagination is a hit with girls of all ages! If your daughter doesn't already own the ubiquitous pink tutu and ballet slippers, you can purchase them fairly inexpensively at any dance clothing store. Add a long-sleeved leotard dyed orange, and a pink T-shirt and tights. Pull your little one's hair into pigtails, clip on some bow barrettes, and fashion a bead necklace, and she will be ready to dance her way from house to house.
Bumblebee
If you're super imaginative, you can create a Bumblebee costume that actually transforms, but if you aren't that creative, don't despair. Visit your local grocery store and ask for empty boxes. Paint them the tell-tale shade of yellow and add details with black paint or permanent markers. Dress your child in black thermal underwear and attach the boxes to his limbs, and voilà, you have the friendly mechanical automaton.
Smurfette
This little blue cutie is popular with girls this year, and luckily, it's a cinch to recreate this look. Buy white tights and a white long-sleeved leotard and dye them a Smurfy shade of blue. Add a white sundress, white shoes, and the trademark Smurf hat, and you're ready to go! It should be noted that this costume can be easily adapted for boys, too.
Tron
Tron was big when I was a kid, and has apparently made a comeback. This costume is easy: all you need are white thermal underwear, glow sticks and glow-in-the-dark paint, a bike helmet, and white paint. Decorate the thermals with the glow sticks and paint, and paint the helmet white, and your child will be ready to be transported into the Digital World.
Gnomeo and Juliet
This is the perfect costume for a brother and sister! Most of the components can be found at a second-hand store, or can be sewn if you're feeling especially crafty. Gnomeo's beard can be fashioned with a piece of white paper (to create the shape) and cotton balls, and fasten around your youngster's head with a bit of string or yarn. The hats look suspiciously like Smurf hats, which can easily be found on various websites and dyed the appropriate colors.
As you can see, it's fun, easy and cost-effective to make your own Halloween costumes. Many parents feel intimidated by this process, worrying that their attempts will look tacky, but you will be surprised at how easy it is to make costumes for your child. So cut yourself some slack, and get to work! Your child will love the results, and you will start a family tradition that all of you will enjoy for years to come.