Play time can be power time for your child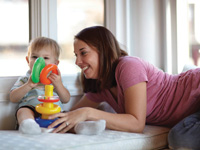 As a multi-tasking parent, you try every day to inspire your little giggle-monsters to reach their full potential and develop into well-rounded beings who are prepared for happy and productive lives. Did you know that the joy of learning can bring out the full potential of every child?
Play can be integral to development and future interactions. Could your child become the next Margaret Atwood or Marshall McLuhan just by engaging in interactive play? Dr. Deborah Weber, a child researcher for Fisher-Price,explains,"Enjoyable play experiences in the early years give children motivation to work toward learning to read and write."
Children want to experience the joy of learning through play, so ask them questions. What colour is this building block? What in the room feels fluffy? The power of play helps children learn and develop across a variety of dimensions to embrace the whole child.
This November 20th, encourage your child to reach their full learning potential by celebrating National Child's Day. It's time, says Dr. Weber, to get creative and take your child on a play journey, no matter what their age is. Show them that today and every day you are committed to their well-being and happiness. Bring out the conversation of play with other parents and find out what makes their families smile and laugh. Chat about their passions and encourage their dreams and remember there is always room for joy.
Tips and tools about engaging your little ones in the power of play, are available online at www.fisher-price.ca.
www.newscanada.com