Quick tips for your best winter health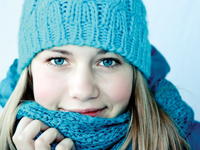 Winter in Canada is invigorating indeed, but it is also a challenging change of pace. This is the time to trade in the baseball hats for toques, say goodbye to our summer tan in exchange for a warm parka—and for some of us, it's also time to battle that annual cold or flu. While it might feel inevitable to cash in a sick day or skip a holiday party, there are lots of ways to give seasonal illnesses like the common cold a run for their money.
According to a recent poll, 65 per cent of Canadians are most likely to experience symptoms of a cold or flu in the winter months, making this the time to focus on prevention. Taking the necessary precautions now is the easiest way to keep control and enjoy every activity with family and friends, without having to reach for tissues and cough drops. Take a look at a few helpful dos and don'ts:
• Do wash your hands often and keep hand sanitizer nearby when a sink is not available.
• Don't overdo it – resist the urge to attend every social function and late night out.
• Do keep your living environment clean. This includes your physical space and the air quality in your home. For the best health protection during cold and flu season, consider air filtration like the Bionaire AER1 System with customizable filters to reduce germs and fight allergies.
• Don't over indulge – during the holiday season it is easy to let your health routines slide. Keep in mind that just because you're celebrating doesn't mean all your routines should fall to the wayside.
• Do take your well-deserved "me" time – a hot bath or relaxing massage can really help to keep your body (and immune system) in tip top shape.
More information is available online at www.aer1system.com.
www.newscanada.com