Recreating Red Carpet Sex Appeal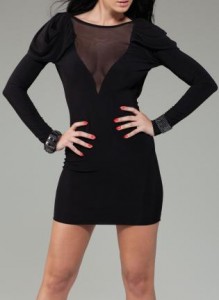 While you cannot walk through life in a floor-length Dior gown, the looks you see on the red carpet are not out of reach. By taking some key aspects of these sexy dresses and toning them down so that they are more appropriate for everyday wear, you will be ready for those pesky paparazzi at any time.
Big at This Year's Emmy Awards
Award season has only begun, but taking tips from the latest eveningwear trends seen on the red carpet will help you to remake that look. January Jones from AMC's "Mad Men" stunned at the Emmys with a Zac Posen gown. Learn this from her: the sharp angles of the dress paired with big arcs in the structure of the gown made this look a winner. Look for structured dresses to recreate this look in your everyday wardrobe.
Pop of Leg
Another knock out at the Emmy's was Jena Malone who flashed some thigh in her floor-length dress with a high thigh slit. Angelina Jolie popularized this sexy look last winter and it was a favorite on the Emmy's red carpet as well. Malone paired the leg look with an asymmetrical, strappy neckline both most haves when looking for this year's sexy dresses you can incorporate into your look.
High Neckline
Necklines seemed to be a big focus on the gowns at the Emmy's, Hayden Panettiere also is being praised for her spot-on look in her Marchesa gown. The one-shoulder, high neck line created a dignified but still sexy look. She is proving that less is more when it comes to showing some skin.
The Hottest Trend
The overall consensus at the Emmy's was that those who looked the best were the ones who knew their body, knew what looked good on them, and dressed appropriately. Those who tried to wear a style that just doesn't fit their body type most times ended up failing. Dressing sexy and sophisticated is not all about the trend, it is about owning that trend and making sure it fits your body type. By keeping this mindset when shopping for your own clothes you can exude to confidence of some of Hollywood's best-dressed actresses. Remember, the key to taking red carpet looks and turning them into an everyday fashion statement is focusing on one aspect of the dress and focusing on that, do not try and overdo it with multiple trends, and most of all own it.
Jesse Dugan is a part of an elite team of writers who have contributed to hundreds of blogs and news sites. Follow him @JesseDugan.