Shopping In New York City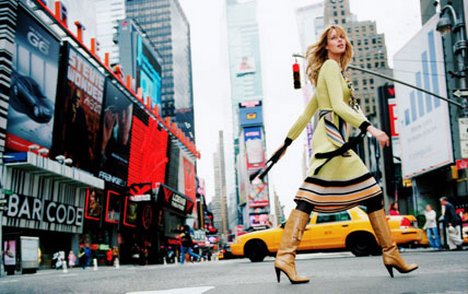 Shopping In the Big Apple
No city in the world is as famous for its legendary shopping as New York City is. While famous cities around the world such as Paris, London, and Milan have legendary shopping reputations themselves, there is no city more recognized for its shopping than New York City. This is because New York City offers diverse shopping which is simply not found anywhere else in the world. Whether you are looking for clothes, jewelry, antiques, electronics, specialty items, etc., you will certainly find it in New York City.
If you love shopping for clothes and jewelry in particular, than New York City will surely be your place. New York City offers some of the most famous department stores in the world, especially when walking along 5th Avenue where some of the city's most well-known stores are located. If you are looking for unique clothing items, than try shopping downtown in either Soho or Greenwich Village. These two neighborhoods offer specialty clothing shops that you won't find anywhere else in the world. This is something that helps to make shopping in New York City a unique experience unto itself.
Exactly where to shop while in New York City:  
New York City has many different neighborhoods, and each of them are famous for something whenever it comes to the subject of shopping. If you are a big clothes shopper, than you will definitely want to check out 5th Avenue for sure. This neighborhood is famous for its legendary department stores, such as Saks Fifth Ave in particular. You will find the latest in clothing items and the best selections whenever you shop anywhere on 5th Avenue while in New York City.
Soho is another very interesting shopping neighborhood in New York City if you enjoy shopping for clothes. Located in lower Manhattan, Soho is best known for its one-of-a-kind boutique stores, where you can find many different interesting clothing items that are truly unique. Chances are if you purchase an outfit from a boutique clothing store in Soho, you will possess something that is one-of-a-kind and not owned by another human being on the entire planet. Many boutique clothing stores in Soho are owned by clothing designers specific to New York City, and sell clothing items and outfits which are not sold anywhere else in the world.
If you are into electronics, than you might to try shopping downtown in Chinatown. This neighborhood offers a variety of electronic stores which offer unique electronic items at very good prices. In fact, you may be able to find electronic products in Chinatown which will work great and cost you a fraction of the price. Chinatown offers many different electronics stores that sell unique items and lower costs. You can definitely find some great deals on electronic equipment whenever shopping in Chinatown. Here are some of the electronic equipment items that you can find for discounted prices while shopping in stores which are located in Chinatown:
Electronic recording devices
This article was contributed by Nathan Eick, a writer for Star City Limo. Nathan enjoys writing about travel ideas, things to do in big city's, and much more. Nathan always visits Star City Limousine to reserve the best NYC limo available.