Summer Activities for Families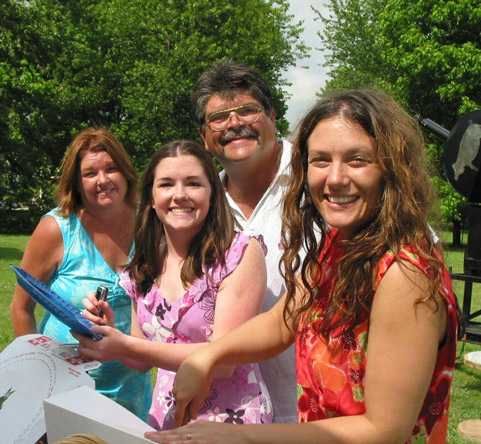 Text by Sheila Kolesar
Summer days are here again. You have a houseful of kids for the next nine weeks. What are you going to do with them? No, you are not going to tear your hair out, throw a screaming fit, or start a new prescription of nerve pills. Instead you are going to be thankful for your little blessings, relax with a cup of coffee, and plan out your summer.
First make a plan. Once a week "field trips" are a great idea. They help the kids have something to look forward to. They also give you leverage with obedience. If the children are not being as obedient as you'd like them to be you can threaten to pull the outing.
Some ideas for field trips: water and amusement parks, Heritage museums, a picnic in the park, summer camp, beach day, and shopping day.
The water park trip is great: you get to lie in the sun; they get to wear themselves out walking up the stairs. This will give you sunburn if you don't have your sunscreen on but your children will sleep well that night.
A heritage museum gives your children an educational opportunity without their even realizing it. If the guide at the museum is good, your children will appreciate all the things they have at home compared to the things that weren't available for children years ago, and all the work the children had to do then as compared to what they do at home for you now.
Picnic in the park day. This is the day when the children plan the activities at the park, and you plan the food. Shoot, this gives you another opportunity to lie in the sun. It's a good thing you already had your burn day, now you will just get brown. Sunscreen, sunscreen!
Amusement park day. This will be a day to just let the children be children and go on rides. Why not go on a few rides yourself? It will give you a chance to be a kid again.
Summer camp. Depending upon which camp you choose your children will learn some valuable skills. Swimming, horseback riding, acting lessons, sports, Bible study are all important things, and are great for building memories.
Beach day. This is your third opportunity to lie in the sun. You know you've got to work on that tan. This is another great opportunity for you to romp with the kids. Throw water all over your children. Let them see a playful part of you.
Are you planning a road trip? My kids still talk about the trip we took to Bemidji two years ago. Every two years we head to Edmonton to go see family and we always go to West Edmonton Mall and take pictures of our kids on the whale's tail to see the difference two years makes in their growth. Fond memories are amazing things to make with children.
Here are some games for on the road, Color Match, Alphabet Hunt, Scavenger Hunt, and Cow Count.
With Color Match, you pick a color, and try to find 10 items outside the vehicle that are that color before picking a new color. Alphabet Hunt similar to Color Match, only this time you are looking for things that start with the letter of the alphabet you are currently working on. So, if I was on A I would be looking for something like an advertisement, B could be a bear etc. For Scavenger Hunt, have a pre set list of items for the kids to look for such as Police Officer, a billboard with a child on it, a tractor or a horse. Cow Count is just that, count the cows that you see.
Finally, you plan a shopping day, but you neglect to tell them it's for school supplies and school clothes for next year. (Ha!)
Well, now that we have filled every week with a field trip, hopefully that also fills every week with new memories for your children. Memories of seeing Mom laughing as she pushes your younger brother into the water or memories of Dad dressed as a farmer at the heritage museum. Not to mention the memories you will have of your children, and the time you spent together.
Happy summer! And Happy Memory Making!