Sweet and Crunchy Popcorn Balls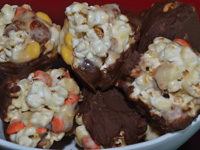 (NC)—Between holiday shopping, entertaining and decorating the home, setting aside quality family time in everyone's schedules can be tough. Follow these tips to get the whole family involved in baking, and you will be having fun while checking another item off of your holiday to-do list.
• Let the kids take the reins. From choosing the recipe to measuring out the ingredients, putting them "in charge" gives kids a sense of accomplishment when their creation comes out of the oven.
• Choose a quick and delicious recipe like Sweet and Crunchy Popcorn Balls that won't overwhelm little helpers with complicated directions or take up the whole afternoon when time in the kitchen is limited.
• Have each child pick out their favourite ingredients and make a recipe that includes them. These personalized recipes can become family traditions for years to come
Sweet and Crunchy Popcorn Balls
Ingredients
1 bag (99 g each) Orville Redenbacher's gourmet buttery flavour microwave popcorn
1 cup candy-coated chocolate candies
3 tablespoon butter
1 pkg (298 g) miniature marshmallows
1/2 cup honey roasted peanuts
Directions
• Prepare popcorn according to package directions. Remove all unpopped kernels. Combine popped corn, candies and peanuts in large bowl.
• Place marshmallows in 8-cup glass measure; add butter. Microwave on High 1-1/2 minutes or until marshmallows are melted when stirred. Pour over popcorn mixture and toss gently to coat evenly.
• Spray hands with cooking spray. Form popcorn mixture into 1-1/2-inch balls. Serve immediately or wrap tightly in plastic wrap.
Cook's Tips:
For a sweet and salty version, add 1/2 cup broken pretzels in place of peanuts.
www.newscanada.com