Teach Children About the Holiday Spirit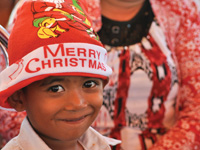 "What would you like for Christmas?" This question, whether it comes from Grandma or the jolly man in red, seems easy enough. But as the options multiply and the shopping frenzy escalates, the answer becomes more and more complicated… and expensive! It is important to help children put the holiday season into perspective.
Parents should take a look at how they are spending money and time this holiday season. If their list is more about expensive gifts, party clothes and concerts. Think about deliberately cutting something back.
Make time for the pleasures of family this Christmas: skating on an outdoor rink, baking and decorating Christmas cookies, driving around town to look at Christmas decorations, or, calling a snow day and staying home for a movie marathon. This creates traditions that children will remember.
Helping somebody less fortunate is an important reality check for the whole family. One Canadian family uses the World Vision Gift Catalogue (worldvision.ca/gifts) to help a child in need. "We give each of our children some money to choose a gift from the catalogue," says Lucie, of Montreal. "They not only practice an act of kindness, but they learn about how other children live. It helps them appreciate everything they've got."
Great holiday ideas are habit-forming. So why just save them for the holidays? Going easy on the expenses, investing in fun family time, and remembering people who are less fortunate are lifestyle choices.
www.newscanada.com