Ten Creative Ways Parents can Use Puppets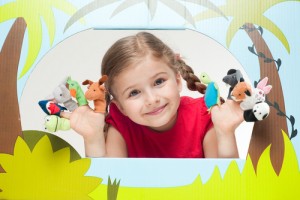 Puppets are one of the most versatile toys that a parent can give their child. They can be used to entertain and instruct and even to wash between little fingers and toes! Here are a ten creative ways to use puppets to have fun with your child and help their cognitive and emotional development.
1. Play all sorts of games with baby. Even the littlest baby will be entertained by watching his or her parents put on a simple puppet show. Peek a boo is even more fun with a friendly puppet and what baby could having a soft, snugly friend give them a big hug? Look for puppets with large, clear features made out of soft materials for this age group. This will help them learn to focus their eyes and make deliberate motions with their hands as they track and try to grab the puppet.
2. Make bath-time more fun and less scary with a towel puppet. Make or buy a puppet made out of washcloth material to be a friendly bath-time helper. The puppet can help keep your child distracted while you wash their hair and then you can use puppet tickles to get their bodies nice and clean.
3. Puppets can make story-time more fun. Many parents of young babies and toddlers report that their little ones are restless during story time. Having a favorite puppet read the book instead of mom or dad might be the ticket to getting your child to settle down and enjoy story time. (By the way, if puppets don't work, it's okay to put books aside for a few weeks and try again later. Many infants don't enjoy being read to until later in the toddler years. Just keep offering and make sure that your child sees YOU reading.)
4. The terrible twos can be a lot easier with a puppet friend to help model and reinforce positive behavior. Puppets can lend a hand at mealtime, bedtime and during transitions, such as leaving for preschool. You can use the puppet to guide your child or better yet, have your child guide the puppet through your established routine.
5. Puppets are a great way to encourage imaginative play. At first, your little one will need a lot of help to come up with a storyline and dialogue, but before you know it, he or she will be putting on elaborate shows. A simple doorway or stand-alone puppet theater can help your child feel like a real star when they put on their shows.
6. Supplement store-bought puppets with simple ones that you and your child make together. Look for ideas in crafts books and magazines from the library or from online crafting sites. Don't worry if you're not exactly Picasso, anyone can make a fun puppet out of socks or a paper bag! If you're more ambitious, you can try making a family out of Popsicle sticks or construct tiny finger puppets out of recycled knit gloves.
7. Shy or timid children can use puppets to help them practice speaking up and other social skills. Sometimes, inhibited children can express themselves better through a puppet than they could speaking in their own voice. Puppets can also be a "safe" way for socially anxious children to give presentation or oral reports at school.
8. Puppets can also be a way to help your child learn to see something from another's perspective. Take turns role-playing everyday situations so that your child can pretend to be a peer, a parent or a teacher. Not only will they gain a better understanding of how their actions affect others, you will gain valuable insight on their motivation and thought processes by observing how they react to you playing their part.
9. Writing and performing a puppet show is a great project for older children. Not only does it encourage creativity and provides valuable writing practice, it's also a good way to teach them how to break down a complex activity into parts and accomplish a big goal step by step. This can be especially fun if commissioned for a special event like a family holiday gathering.
10. Puppets can let you be silly with your older kids, even the dreaded tweens. While your child was probably as pleased as can be to let loose with you, kids ages 9 and up often go through a phase where everything you do is terribly embarrassing and horrific to them. While they'll probably outwardly roll their eyes at you having a puppet remind them to clean their rooms or do their homework, it will also give give them the reminders that they secretly crave that they are still your "babies" in a way that's not suffocating to them.
Jacob Maslow is the father of five active children and an expert puppeteer. When he's not putting on shows for his gang, he works for Today's Concept an online retailer that sells high quality children's toys including Melissa and Doug puppets and puppet theaters.