Tips for a Stress-free Summer Road Trip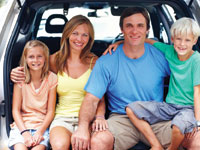 While we all like to get away to enjoy the summer, cranky kids, congestion, construction work, and scorching hot weather can make for a stressful time if you are gearing up for a road trip.
As the saying goes: An ounce of preparation is worth a pound of cure. To ensure your trip goes smoothly, consider the following road trip tips to keep your passengers safe and entertained until you arrive at your destination:
A matter of maintenance: Be sure to thoroughly inspect your vehicle before hitting the road. Check for proper inflation in all four tires, inspect hoses, make sure all fluids are topped up, and don't forget to check that brakes and the air conditioner are in good working order.
In case of emergency: A charged cellphone is probably one of the best emergency tools to have on-hand. Make sure you have a vehicle charger for your phone in case the battery starts to die. It's also a good idea to have basic emergency tools handy like a first-aid kit, jumper cables, various screwdrivers, a wrench, pliers and flashlight.
In-vehicle entertainment: DVD players and portable gaming units can help keep young passengers busy, but don't forget about good old-fashioned, road trip games like license plate bingo or eye spy. These days, satellite radio is also fascinating, keeping everyone entertained and informed while on the road. Enthusiasts say it has many advantages over AM/FM radio including coverage throughout Canada and the U.S. If your vehicle is not already equipped with satellite radio, there are many models available that are easy to install. A family favourite is SiriusXM. The network tells us that it broadcasts more than 120 different channels including news, sports, talk, entertainment, comedy and commercial-free music, entertainment to suit everyone's taste. For example, SiriusXM's Radio Disney channel is perfect for the kids and will help keep the "are we there yet" inquiries to a minimum. Switching up genres and channels will also help change up the mood in the vehicle during your drive. More information is available online at www.siriusxm.ca.
www.newscanada.com