Trim tables and wrap gifts with potato-print crafts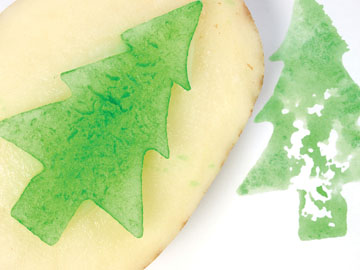 (NC)—Spending time together as a family is one of the highlights of the holidays, and one of the best ways to fill in this time is with arts and crafts activities. Remember: the messier the better.
This year, get the kids involved in decorating the holiday table by creating a fun potato-print table runner and place cards. And while the craft materials are out, why not create some festive wrapping paper too? These activities are easy and will get the entire family in the holiday spirit – just make sure an adult does all of the cutting and you're set. What you need:
Bounty paper towels
Potatoes
A roll of butcher paper
Cardstock for the place cards
Crayons and markers
Acrylic paint
A bowl of water
Small cookie cutters in various holiday shapes
Scissors
Directions:
1. First, cut the potato in half with a sharp knife. Press a small cookie-cutter shape into each half of the potato to create the desired shape. Seasonal shapes like bells, snowflakes and stars work well for this craft. Cut away the area around the shape so the potato is now a stamp.
2. Pour paints into containers. Dip the potato stamp into one colour of paint and press the stamp down firmly on the butcher paper, which can be used for the table runner as well as wrapping paper. Clean potato stamps with water and dry them with a sheet of Bounty paper towel before switching to a new colour so that the colours don't get mixed together.
3. For the place cards, trim white cardstock to the size you want and fold it in half lengthwise.
4. While stamping, make sure to leave enough room on the card to write the names of your guests once the paint dries.
5. Once the paint has dried, set the table with the table runner and place cards. Guests will love to sit down to a holiday meal at your festive table.
6. Don't worry about the mess. Just wipe down all surfaces with Bounty paper towels – they have the strength, absorbency, and cloth-like durability to clean up the mess with ease.
More great craft ideas can be found online at www.bountytowels.com.
www.newscanada.com