5 Fun Rainy Day Activities for Summer
If your kids are anything like mine, they get bored quickly on rainy days. The last thing I want to do is encourage them to watch TV or play with electronics all day. They do that enough on their own. Here's my go-to list of rainy day activities for those pull-your-hair-out days: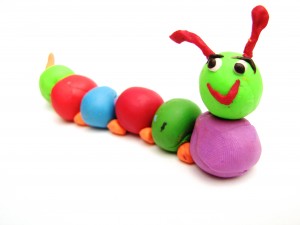 HOMEMADE PLAY DOUGH
Yes I said play dough. You might be cringing as you picture the stuff on the floor, in your carpet, and quite possibly on the ceiling. Kids are talented like that. As a mom of 3, an 11 year old and 4 year old twins, I understand completely where you're coming from. I find that when I let them be involved in making the play dough they seem to make less messes when they helped create it. Click here for a selection of homemade play dough recipes using a variety of common household ingredients!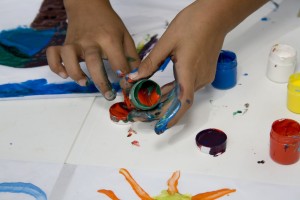 HOMEMADE FINGER PAINT
What kid doesn't like to get their fingers dirty with paint? I know mine do! What I like about homemade finger paint is that you make it yourself and you can make as much or as little as you want. It's also inexpensive so when the mess project is over, you can throw out the leftovers and make more next time. My three favourite homemade finger paint recipes are here.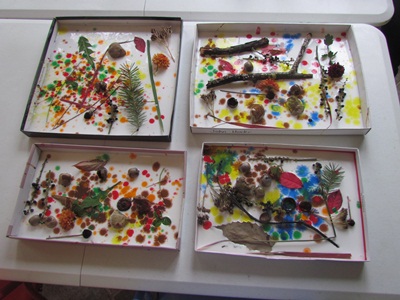 SHADOW BOXES
On sunny days or during your next outdoor family outing, encourage your kids to pick up sticks, rocks, shells, etc. and place them in a container for later. On a rainy day, create artwork by gluing pieces from the collection into a shadow box. Pour a thin layer of white glue onto the bottom of the shadow box and let them be creative. You can buy shadow boxes or create your own using cardboard boxes.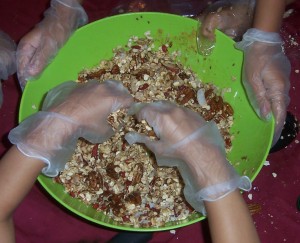 BAKING
You know the expression "The apple doesn't fall far from the tree"? With my family that's a true story when it comes to the love of cookies. My kids are obsessed with helping me bake (and eat!) them. Check out our favourite recipes here.
8 benefits of baking with kids
Builds math skills
Enriches oral vocabulary
Teaches scientific concepts
Boosts reading skills
Introduces life skills
Develops fine motor skills
Promotes social skills
Provides fun "connect" time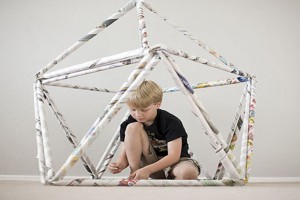 NEWSPAPER FORT/SHADOW PUPPETS
What kid doesn't love a fort? I think I love making forts as much as my kids do but sssshhhhhh that's our little secret, ok? This newspaper fort definitely takes time to construct which makes it a perfect time waster for older kids and the end result is fantastic!
After you've constructed the fort, you can hang a sheet, camp out in the fort and make shadow puppets with a flashlight. Shadow puppets can be made with their hands or cut out paper shapes and tape toothpicks or popsicle sticks to the shapes.